A couple of weeks ago, I got a text from Cara asking if I was interested in being a guest blogger on The Helpmates. I was so excited! I try to keep up with every post and I love the variety of tips, recipes, and insight that it provides! What an honor it is to get to be a part of it! In our hometown, I run a growing cake business called Goad a la Mode Cakes. She asked that I come in from time to time and share fun recipes and baking ideas! This is my thing! Blog writing, however? Not my thing. So, prepare yourself…take a seat..and buckle up..
I have five beautiful, crazy, curious, creative, intelligent..ok, I'll stop now..I have five AMAZING children. I've always wanted to be a mom and do the mom thing. You know, sew clothes, grow flowers, cook dinners from scratch, keep the house updated in current design and always spotless, have my children involved in everything and make sure they're the best at it..those kinds of things. Then, I got married and was automatically the mother of 3. I realized that we're all just flying by the seat of our pants. Now the mother to five, I want so badly to do all of those things successfully. But, I am thrilled with myself when I can complete just one task start to finish. Baking is a passion of mine inspired by my children. Today, we all got together and made some April Fool's Day cupcakes for my youngest to take to school tomorrow. This is something you can do in about an hour and a half – and the excitement in their eyes makes it all worth it!
This week, I had snickerdoodle cupcakes as one of the flavors at my bakery. I decided they would be perfect for this school snack! Peanut free, and..it's SNICKERDOODLE, y'all! Don't want to call them snickerdoodle cupcakes? Call them cinnamon roll cupcakes. Everybody loves a cinnamon roll. For the sake of your time I will just post a recipe you can use with boxed cake mixes. Yes, you'll have extra..but too many snickerdoodle cupcakes? No such thing!
1 Box Butter Cake mix (I like Pillsbury)
1 Box Cinnamon Streusel Muffin Mix (I used Krusteaz brand, but any will work)
Follow boxed cake instructions but add these things to the entire batch..
4 Tablespoons Mayonnaise
3 Teaspoons Vanilla Extract
Bake according to box instructions OR I like to use the 'tap' method. I give them about 15-20 minutes and then start periodically checking them by tapping my finger on top to make sure it springs back. When they spring back up after tapping, they're finished so immediately pull them out and let them cool. The trick to a moist cupcake is not letting it overcook the slightest!
Once cooled, we placed them in an aluminum roaster tray to help make them look like a casserole. Try and place them right next to eachother so you can ice them on top without worrying about the icing falling between the cupcakes in the gaps

Use your favorite buttercream or cream cheese recipe to ice these mock spaghetti treats. Put one TINY dot of brown and one TINY dot of yellow in the icing to give it a noodle color. A little bit goes a long way when you're trying to get a pale color!
I had the boys ice the noodles. They're that easy! Just squiggle (technical bakery termage there) SQUIGGLE the icing all over the place! They had fun with this. Comparing techniques, as if they were all my little culinary professionals. Keep squiggling until you can't see those individual cupcakes underneath anymore!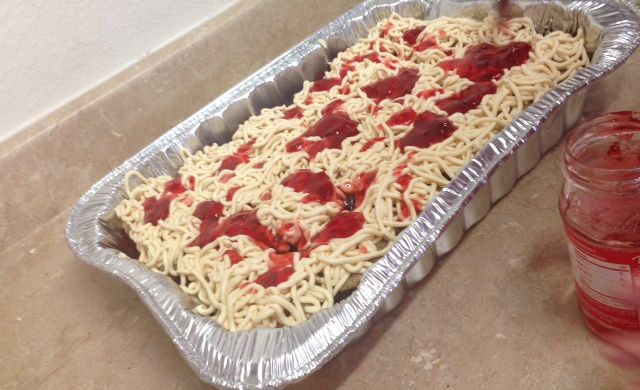 We used strawberry ice cream topping for the spaghetti sauce and..Furry Rouge.. no, Ferry Roots..wait, Forty Roaches..hold on..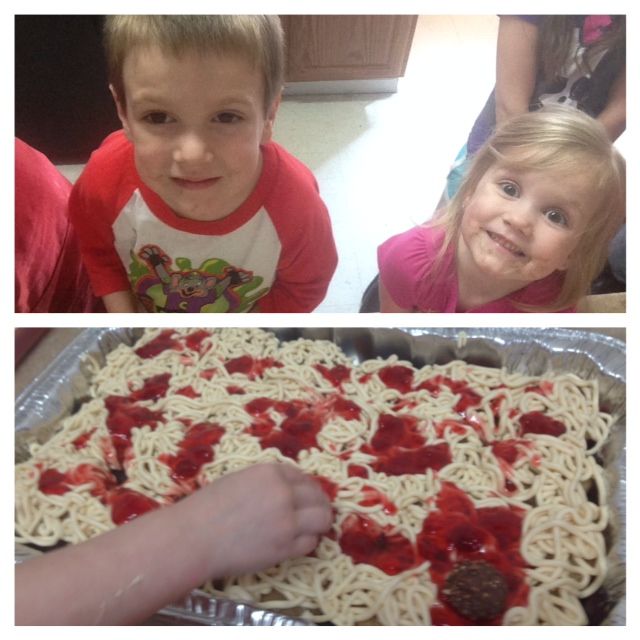 Ferrero Rocher yeah, that's it! Ferrero Rocher chocolates for meatballs! My toddlers did this part so they could be a part of it too.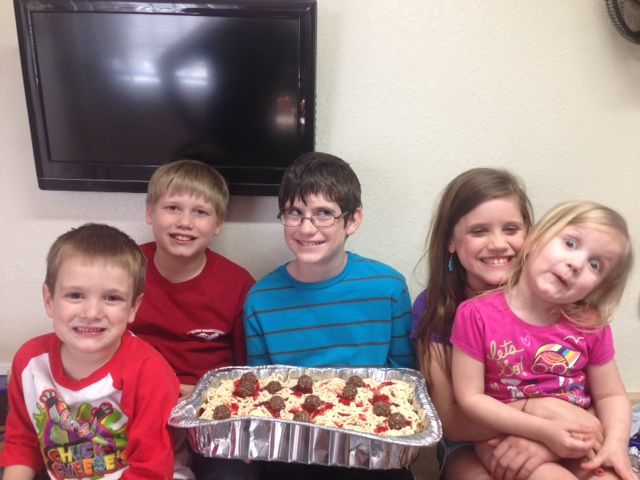 There ya have it! Spaghetti Casserole cupcakes! What an easy and TASTY April Fool's Day treat! Have fun with it!