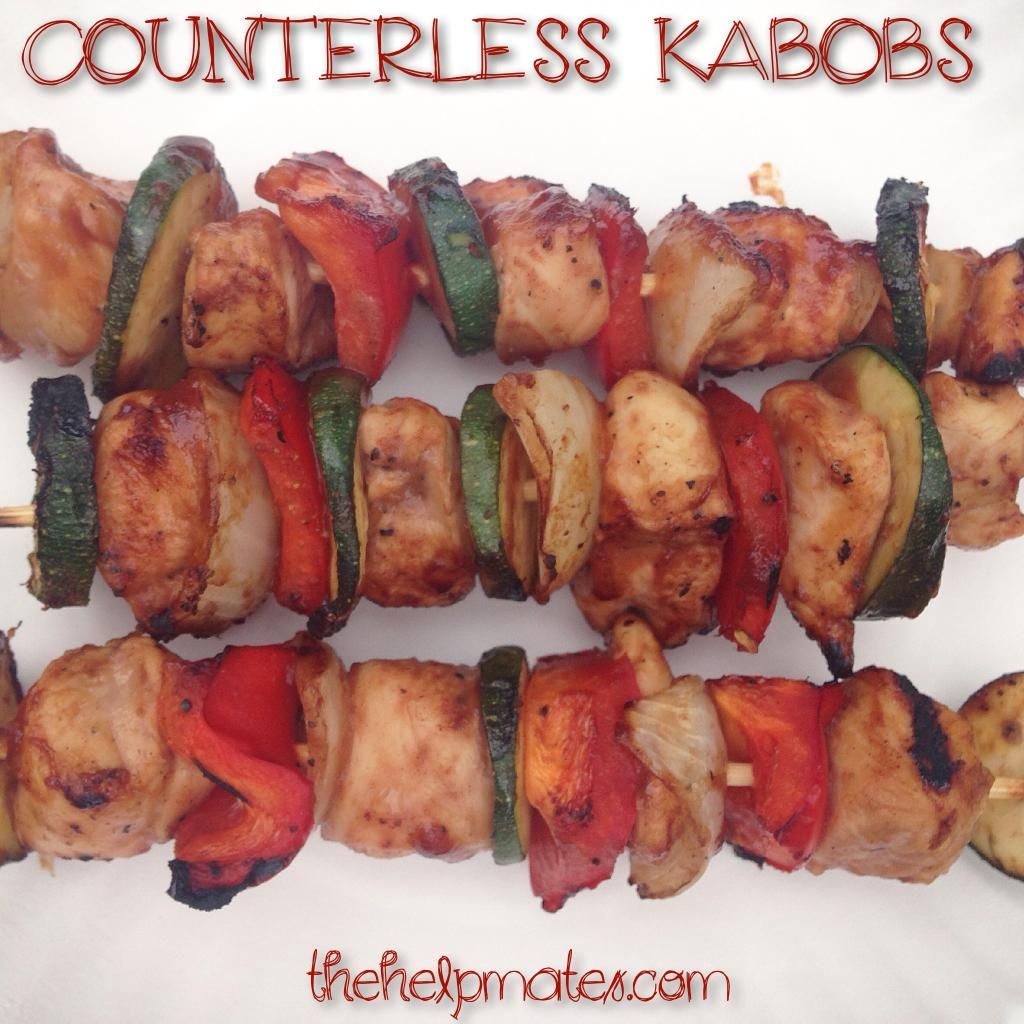 Yes, you read that correctly… Counterless Kabobs! Right after Matt and I moved in to The Krampy Shanty, we decided to remodel the kitchen. It had ended up taking a lot longer than we expected, particularly because of our back-ordered counters.
Having no kitchen counters translated into a lot of grilling out, fast food, and paper plates this summer! Since making these kabobs, we have finally received and installed our counters (praise The Lord!), but I thought I'd still share our silly little experience of making food sans counters.
Step one, plop down on the kitchen floor (since the table is covered with tools and backsplash materials) and get to chopping! One bowl for chicken and one bowl for whatever veggies you prefer. We just used what we had on hand since this was a spur of the moment "I'm tired of sandwiches" kind of recipe. So that left us with red peppers, zucchini, and onion – which turned out to be a really tasty combination!
Step two, watch out for the dog! Oh how helpful countertops are for the dog-owner in the kitchen…
Step three, gather some sauces and spices and create a delicious marinade! When your husband's in seminary and under contract not to drink, you get creative with Christmas gifts – hence the Maker's Mark sauce.
As for finding the right proportions of sauce to spice, I just did a little trial and error. I'm not about to taste test anything that touches raw chicken, but once I mixed my sauce together, I sampled it with a raw red pepper to see how it tasted. When I felt I had a good combination, I poured equal amounts in the chicken and veggie bowls and mixed it in. But be sure and save some of your sauce for later!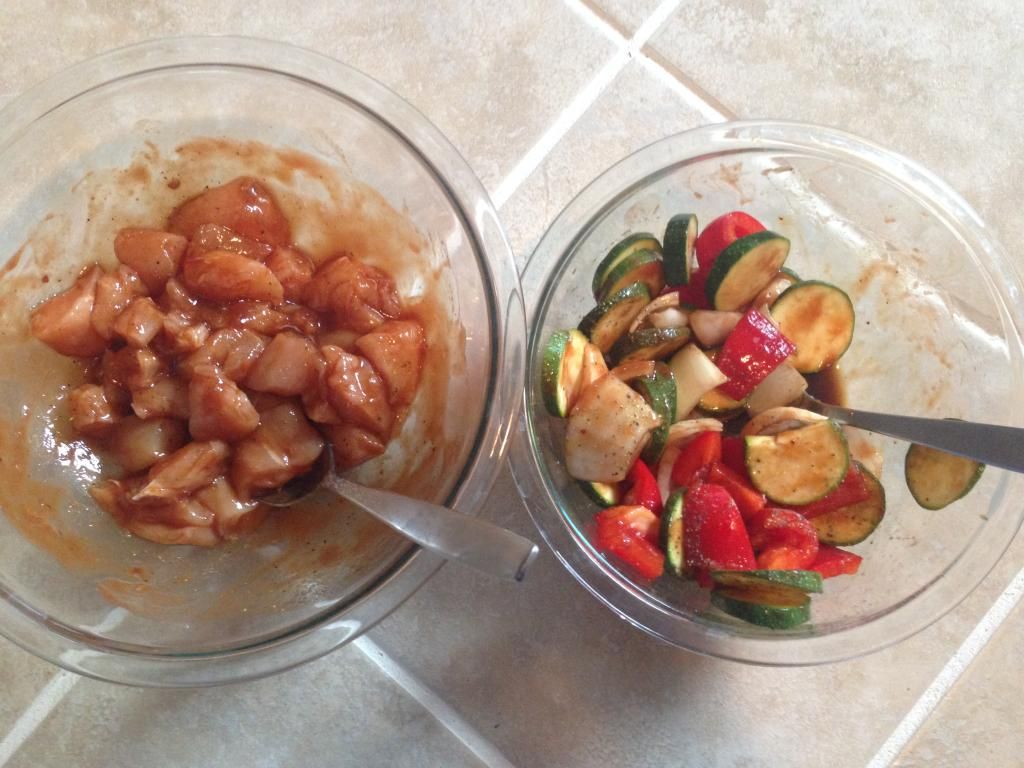 Since I get off work at 5 and Matt doesn't get off until 7, I was able to do steps 1-4 before he got home. I covered and placed these bowls in the fridge to marinate a while longer, and then I thought to myself 'I don't know where our skewers are'.
So the next hour or so was spent frantically searching for the skewers. I was starting to think we'd just be settling for a little skillet meal, and I was about to start cooking some rice instead. And then Eureka, I found them! (In the coffee table drawer, because you know…that makes perfect sense.)
I had been texting Matt a play-by-play of my hunt and was getting advice on obscure places to look, so of course I had to send him the following celebratory text message:
I soaked the skewers for a quick thirty minutes, and then when Matt got home we started to prep the kabobs together.
Sometimes when Matt is taking pictures of me, he does this thing we he never counts and so I think he's not taking any pictures. So I just stop smiling or I make silly faces, and then later I realize he was taking them all along and we end up with these results…
Angelic Cara..
Not-so-angelic Cara…

Pretty attractive, huh?
I really don't know a good segue to follow that picture, so….just start grilling!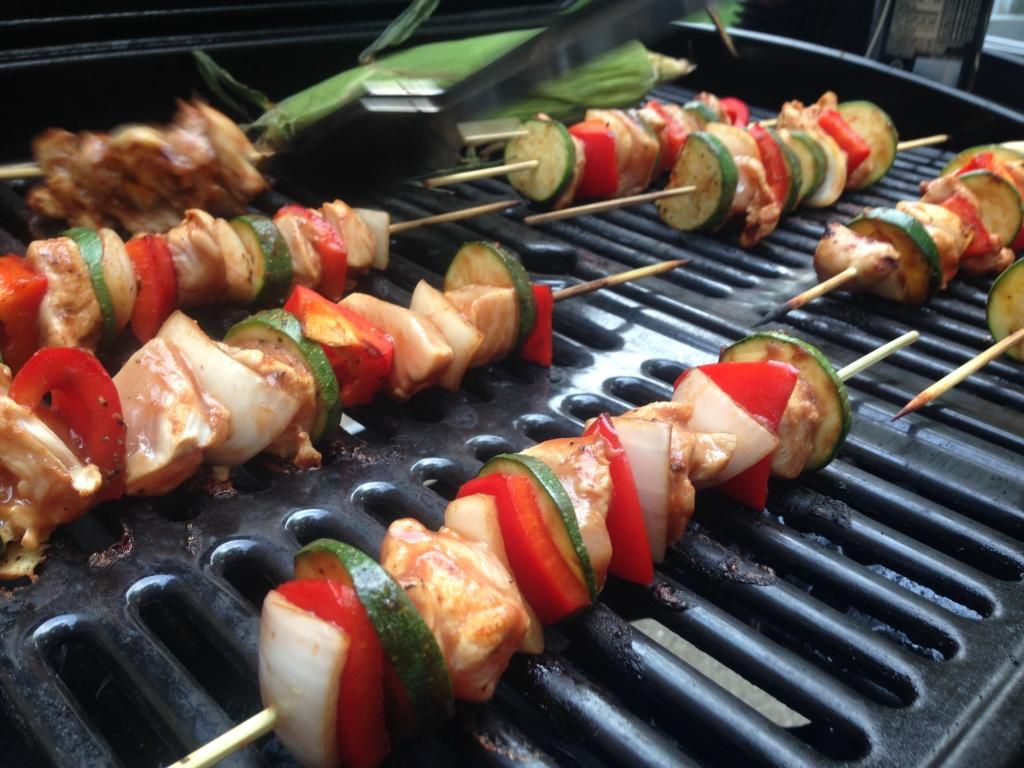 Drizzle on your remaining sauce as you grill!

The Krampy Shanty Grill Master himself…

Like our lonely little ear of corn? Hehe! We split it as a side because we only had one ear left.

And Voila, counterless kabobs! Much more trouble than they had to be, but worth every bite and every memory!