I have been eyeing a family growth ruler for some time now, as a fun way to track our kids' growth throughout the years. I thought it would be nice to have it on a plank of wood as opposed to a door or wall, so that we could be sure and take it wherever we move to next.
I decided to make my own… mostly because I just didn't love any of the font choices or layouts I found, but saving on the cost was definitely an added bonus too! Most of these I've found on Etsy range between $50-70, with costs that stack up quickly for adding extra names and details. I was able to make mine for less than $20, using a larger piece of wood even.
I searched Pinterest to read up on the different ways that people had successfully made their own. I stumbled upon this post by Cassie at wholefully.com. Her method seemed simple, inexpensive, and like it would work well for my number 1 need to make my own… wanting to choose my own fonts and spacing. The idea of hand painting your own numbers and letters on the ruler might scare some people off, but she offered a great method for creating your own 'stencil' with any font you could print.
I changed up quite a few things design wise, but stuck to her general overall advice for prepping the wood. Here are a list of the materials I used for mine and a step by step process from start to finish.
Materials Needed:
 1" x 12" x 6' pine board (Honestly, 1″ x 8″ is a much more commonly used size for these. Or even 1″ x 6″ or 1″ x 10″. Mine is the first one I've seen that has been as wide as 12″, but that was another personal preference of mine and a reason I wanted to make my own. We already have a big family, and Lord willing, it might grow even more, so I wanted lots of room for tracking everyone's height each year! And I also wanted more space between the left side numbers and the right side words. I felt they looked too cluttered on the smaller sizes. But some people don't even want words on theirs at all, so in that case, smaller may be perfect for you! It would certainly save you a few bucks!)
Fine grit sandpaper
Rag or sponge for applying the stain
Wood stain
Printer & paper
Ruler or yardstick
Acrylic paint (I used black, but use whatever color you want! If you did a dark brown or grey stain, white paint would look great!)
Thin paint brush
Spray polyurethane (optional)
Hanging method (I plan to use 3M command strips)
When shopping for your wood, make sure to choose a piece that isn't split or warped, because you want it to be able to hang flat against the wall. Also look for a pretty wood grain, because no matter what stain you choose, you'll be able to see the grain pattern through it. I personally found better luck at Lowe's over Home Depot this time – and friendlier workers too! I think I was offered help carrying my load to the car about 5 different times, which means I must have looked REALLY pregnant.
My piece of pine ended up being $16, but if you use a smaller size like most do, you're easily looking at less than $10!
Once you have all your materials, you'll want to start by lightly sanding the wood in the direction of the grain. It doesn't take much at all, just make sure it's nice and smooth. Then use a damp rag to wipe off all the dust. Be sure to let it dry completely before applying the stain.
As far as the stain goes, grab the tiniest can you can find and it'll still be way more than you need. I spent $3 on a tiny little can and you seriously can't even tell I used any from it at all. I think I could easily make 20 more rulers from it.
Dab a rag or sponge into the stain and apply it to the wood in the direction of the grain. Let one coat dry completely before applying a second. I applied one coat on each side and edges, then went back to apply a second coat after it had dried. After the first wipe, I immediately realized I preferred just one coat. There was no turning back, so I finished a second coat application on only one side of the ruler. I let it dry completely, then brought it inside and held each side against the wall to see which I preferred. I was right – I preferred the lighter look of just one coat. But you do what you like best – if that's 4 coats, then do 4 coats!
Now for the fun part! (At least for me)…. Designing your ruler! I probably spent less than 2 hours physically making my ruler, and probably another 2 playing with fonts and layouts. I know, I know… I'm picky in this area. But if I'm going to have something hanging on my wall for the next 20+ years then I want to make sure I'm going to love it, ya know? I didn't want anything too trendy, because trends change. I just wanted a classic look that would go with any wall color or decor I may have in the future.
I took a picture of my ruler and cropped all the background out of it so that I could play around with fonts in an app called Rhonna Designs.
Here's what some of those ideas looked like:
I also printed out some pieces of paper for my actual ruler and was able to move them around to see what looked best.
After consulting a few trusted design-loving buddies via text (who were probably wishing I wasn't such a night owl) I landed on this…
'the' lowercase in Lucida Handwriting size 80 pt.
'KRAMPS' uppercase in Trebuchet MS size 185 pt.
'est.2012' lowercase in Trebuchet MS size 80 pt. (with no space after the period)
My numbers were written in Trebuchet MS size 200 pt.
Feel free to copy that exactly or do whatever works best with your name or phrase.
Making my lines:
I liked the look of Cassie's ruler hanging 8″ off the floor, so that's how I determined where to start my hash marks. I think you need to plan at least 6″ off the ground though – in order to account for hanging above baseboards. With the height of the men in mine and Matt's families, I figured a 6'8″ cutoff was a safe amount to allot for our growing Liam.
For this part, I went with Cassie's instructions exactly because I loved the look of her lines! Marking my lines in pencil, I followed this advice from Cassie:
"I decided that I wanted to hang the ruler 8" up from the floor in the nursery, so I started my first hash mark at the 9" spot. There, I just drew a pencil line. To keep the ruler looking authentic, I made the 1/8 marks 1-1/2" long, the 1/4 marks 2" long, the 1/2 marks 2-1/2" long, and then the foot marks 3" long. "
I first just went down the entire ruler making short marks on all the inch lines, then went back and made the foot marks the correct length, then the 1/2 foot marks, then the 1/4 foot marks, then the 1/8 marks. I hope that isn't too confusing. In doing your lines different lengths like this, it helps to keep that authentic 'ruler' look.
Then I went over the pencil lines and simply hand-painted them in black acrylic paint. I wanted a handwritten quality to my line marks, so I didn't try to keep them super straight with a ruler or anything.
After that was dry, I taped my numbers where I wanted them to go (directly before the foot mark), then I traced the outline of them with an unclicked mechanical pencil. It made a slight indention on the wood – a stencil for me to go by when painting my numbers.
I followed this method for my words as well.
I will say, you need a little bit of a steady hand if you want super crisp lines that look just like the font you've chosen. I've always loved art, especially painting, so this part didn't scare me away. While I was working, Matt mentioned several times how he "could never do that" and "how did I make the lines so straight?"…. so you've been warned that maybe this part is slightly harder for those of you who consider yourself artistically challenged. But hey…. they sell vinyl sticker kits for that reason! It would add a little cost to your ruler and you wouldn't get as wide of a font selection, but that's still an option if you wanted to go that route!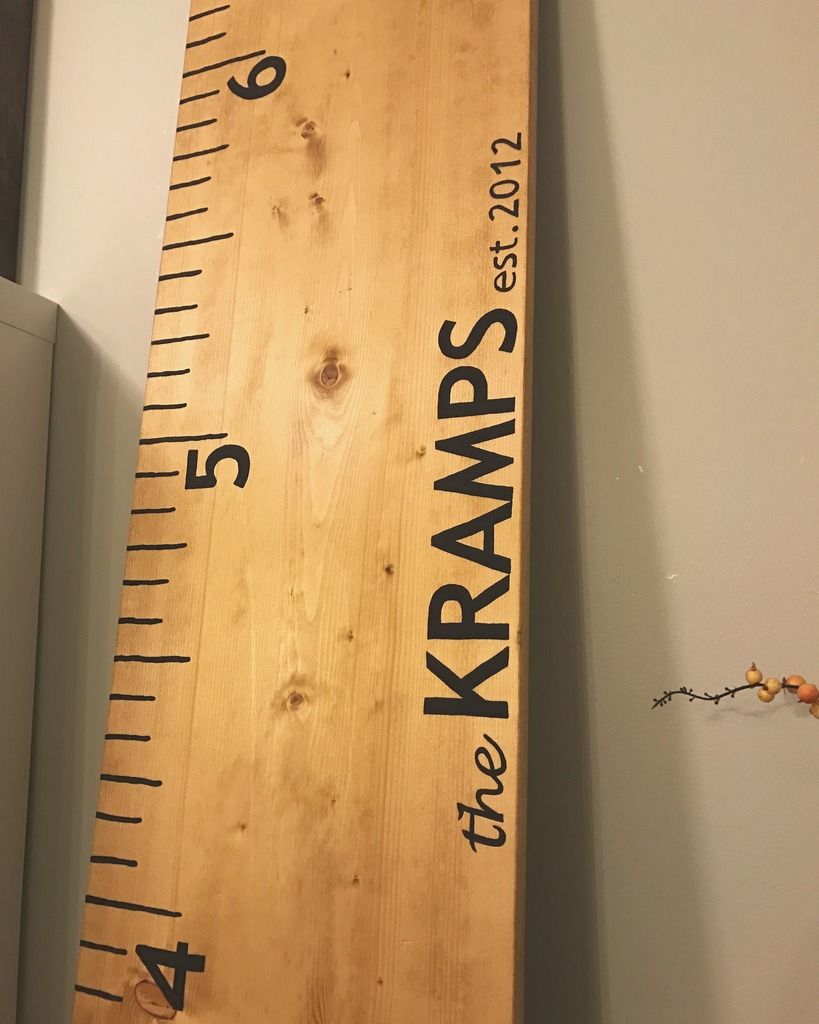 After all my paint was dry I sprayed two light coats of polyurethane on it per the instructions on the back of my can. It made absolutely no different whatsoever in the look of my ruler, but I've read that it helps seal everything well, ensuring it will last through… ya know… 20+ years of lots of kids! Of the 3-4 blog posts I read on DIY rulers, Cassie was the only other person who applied a finish like this to hers, so I'd say it's optional.
But you could always check back in 20 years with those other girls to know for sure! 😉
As far as hanging goes, I haven't gotten that far yet. Only because my ruler is currently hiding my giant orange extension cord for my Christmas tree lights. Once Christmas is over, I plan to hang my ruler with a simple 3M command strip at the top and bottom. They can hold up to 20 lbs, and my ruler is only 9 lbs. And I love the way they don't damage your walls!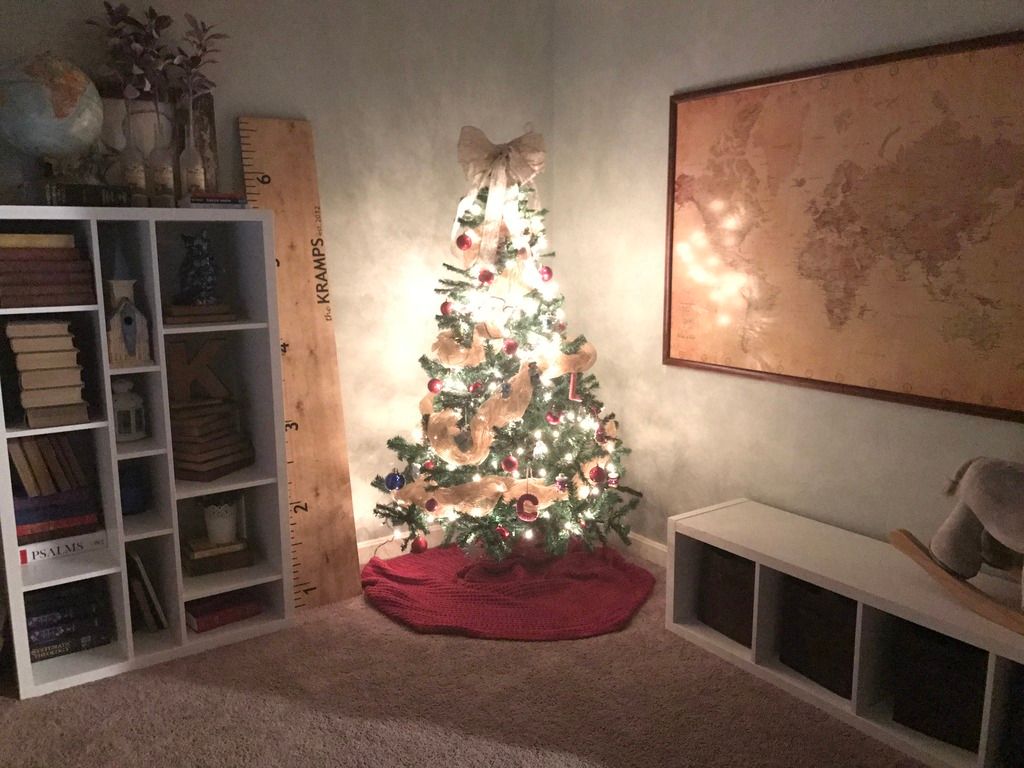 I also plan to write on my ruler with a standard black sharpie… which, I suppose you could use for all your lettering and numbering instead of the black acrylic paint too if you were scared of a paint brush!
I hope this tutorial was helpful though, for those of you who have asked me to write it! And it's coming just in time to make one as a Christmas gift! 🙂
Happy crafting!