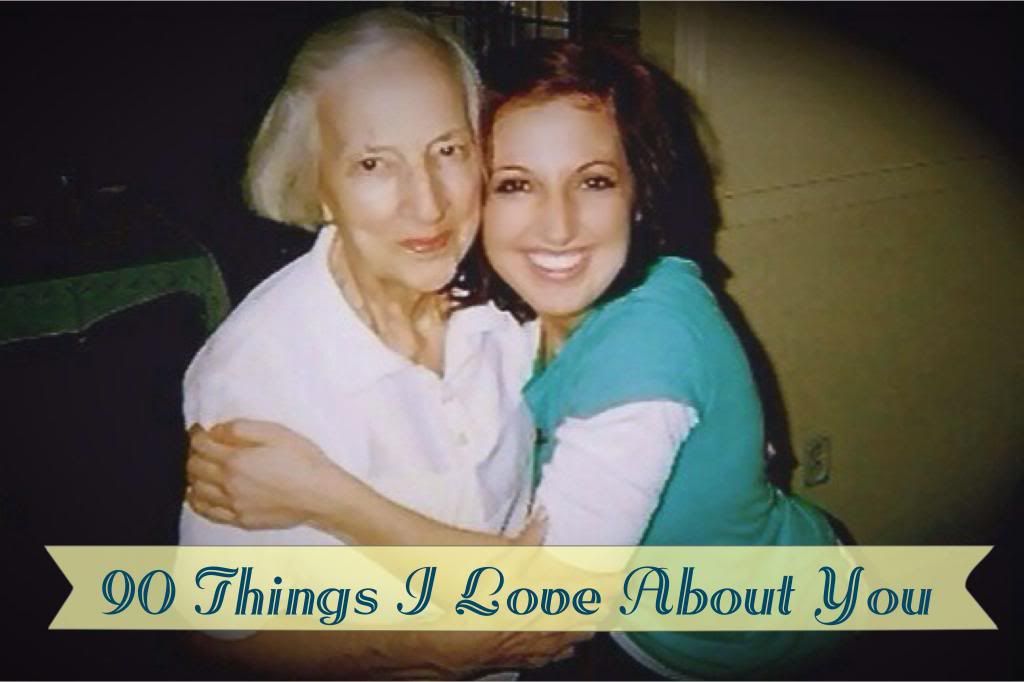 When my mom was widowed at the heartbreaking age of 34, my grandparents stepped in to make sure the three of us were well taken care of. We were living in Arkansas, and they were just across the Mississippi River in Tennessee. It was about an hour and a half drive, but they traveled it often. They came not just for the holidays and sporting events, but to chop down trees and clean out gutters. They loved us and served us well.
Because of this, I grew up extremely close to both of my grandparents. My relationship with them has shaped a deep love in me for all the elderly. They bring so much joy to my life, and I love to just sit and listen to all they have to teach me.
My Granddaddy Bill passed away in 2011, but not without first making it to the ripe old age of 90! For his 90th birthday present, I wrote him a letter "90 Things I love About You". I teased Gramman that she had to make it to 90 before she got one of her own. Little did she know, I really meant it.
Three and a half years later, and here we are. My sweet Gramman turns 90 this Sunday, May 18th! And here is her letter:
1.) You love Jesus and your lifestyle shows it.
2.) You put up with Granddaddy Bill's crazy self for nearly 70 years.
3.) You raised 3 lovely daughters.
4.) You have the cutest sayings like "Lord have mercy on my soul and body", "Six of one, half a dozen of the other", "There's his side and her side and somewhere in the middle is the truth", "Maybe Jesus will come tomorrow and we won't have to worry about it", "Out like Lottie's eye"…
5.) You take care of your health.
6.) You're hospitable.
7.) Everything you cook is delicious.
8.) You are the hardest worker I have ever met, even at age 90.
9.) When you're watching ballgames on TV, you give 1 resounding clap for a good play.
10.) Your favorite color is blue, just like mine.
11.) When I was scared to go on my field trip to the Memphis Zoo in 1st grade, you & Bill met me there so I'd have my favorite buddies with me.
12.) You gave me a dollar for every 4-leaf clover I found.
13.) You decided that rule would break your bank soon, so you reversed it.
14.) You may not think you're funny after being married to the biggest trickster of all, but you make me laugh with your "Gramman ways".
15.) You always make me smile.
16.) You hang up my artwork all over your house.
17.) You let me come spend a week with you and Bill each summer. 1 week a year I had you all to myself!
18.) You yell "Get off my TV" when Bill Clinton comes on as you quickly change the channel.
19.) You are always up to date on current events.
20.) You compliment me and encourage me.
21.) You're the reason I love to cook so much.
22.) You are brilliant. Not just smart…brilliant.
23.) You are an excellent gardener.
24.) I love our walks down to the barn together.
25.) You keep a clean house.
26.) You watch the news every night.
27.) You give me jars of your fresh honey when I come visit.
28.) You know your limits and can admit when something is too hard for you to do.
29.) You're frugal.
30.) I learn a lot just from observing your lifestyle and habits.
31.) You never give up.
32.) You know when to speak and when to just listen.
33.) You pray for me.
34.) You defended me when everyone else in the family nicknamed me "Thunder Thighs".
35.) I still remember the day (just a few years ago) when you said you were feeling a little groggy, but you didn't know why. Then you proceeded to tell me all you had done for the day was "I made us some breakfast, ran a few errands in town, tended to the garden, swept and mopped the floors, painted the black-splash in the kitchen, then made a quick lunch and now I'm resting."
36.) You love to read.
37.) Your farmland is my favorite place on Earth.
38.) I love your laugh, it makes me smile to watch you laugh.
39.) What you say is what you mean.
40.) I started loving coffee because you love coffee.
41.) Watching you cook has helped me learn how to be more experimental in the kitchen.
42.) I have fond memories of sitting peacefully in the back office, just reading books with you.
43.) You gave me the nickname "The Sweetest One" and now Matt is "The Sweetest One #2″.
44.) The best 'money saving' advice I've heard to this day came from you. 'Only buy what you need. If you don't absolutely need it, just don't buy it.'
45.) I wake up to the smell of bacon, sausage, cheese toast, pancakes, biscuits & gravy, scrambled eggs, toast & jam, honeydew & cantaloupe, juice, and coffee every time I spend the night. You do breakfast right.
46.) You send me sweet cards "just because".
47.) You care deeply, but you don't let your emotions rule your decisions.
48.) You gave me and Lee money for straight As growing up.
49.) You wrote a book of your life on the farm, something I will cherish forever.
50.) You faithfully taught a children's Sunday school class at your church for years.
51.) You're content, a quality that's often undervalued.
52.) About 5 years ago, you decided to spice up our holiday time by providing 'door prizes'. Nobody knew what to expect, but I was thrilled to be the first winner of $100 cash! My mom still teases me that all she won was an apple pie. But she ate that whole pie herself, saying "You can buy your own pie with the cash you just won".
53.) You have the prettiest day lilies.
54.) I love sitting out on your picnic table eating watermelon with you.
55.) You stayed married to one man your whole life.
56.) You take me out to eat at the Piccadilly Cafe.
57.) You have an ongoing prayer list for the family. When Aunt Carolyn was diagnosed with cancer, you told the rest of us to fend for ourselves because she was the top of the list now!
58.) As soon as someone clears their plate at the dinner table, you are ready to re-load it for them.
59.) You let me raid your pantry when I come visit.
60.) You let me bring all my friends out to the farm for a visit and a nice southern meal.
61.) You never complain.
62.) You're the best proof reader I know.
63.) You let me take my engagement photos out at the farm.
64.) When Brooks Museum published my painting as their Christmas card, they couldn't keep them in stock because you kept buying them all. I still will get a note from you on one in the mail every now and then.
65.) You have driven near and far to watch me play sports over the years.
66.) You've spent many hours volunteering at your county library.
67.) You've always lived within your means.
68.) You make the best chicken salad sandwiches ever!
69.) You're my favorite pen pal.
70.) You're generous.
71.) You love the man I chose to marry and you welcomed him into the family with open arms.
72.) You pick up on phrases of the time. I love it when you say 'You Rock!'.
73.) You're humble.
74.) I know you would disagree, but I've always thought you were beautiful.
75.) You stayed strong when Granddaddy Bill was diagnosed with Alzheimer's.
76.) You're practical.
77.) Despite your long-standing rule, you let Jasmine inside the house now.
78.) Your advice is valuable and comes to my mind often.
79.) You know history inside and out.
80.) You've never cared about an extravagant lifestyle.
81.) I got my brown eyes from you.
82.) You know how to research information better than me, and you have never even used a computer!
83.) You have a phenomenal memory.
84.) You say I was 'the best baby' simply because I would sit still in your lap.
85.) You do what has to be done when it has to be done.
86.) You taught me how to make your chocolate pie and caramel cake.
87.) You made us sign a petition that we would not throw you a surprise party for your 90th birthday like we did to Bill.
88.) You waited a full 3 1/2 years to get your own '90 Things I Love About You' letter.
89.) You're in the process of leaving one amazing family legacy.
90.) You're my grandmother… do I really need another reason to love you?
I hope this post encourages you to develop deep relationships with the elderly in your life. You won't regret it.