Growing up in Arkansas, tornado drills were just a part of life. We listened when the warnings came. We packed the basement hallway with pillows, stuffed animals, and the real animals too. It was a slumber party on a school night! I thought this was what it meant to 'be in a tornado' when I was a kid.
On February 5, 2008 that all changed. I was a sophomore at Union University in Jackson, TN when an EF4 tornado tore through our campus, leaving nothing but a pile of rubble.
A pile of rubble with 1,200 students all still breathing.
That night changed me in a lot of ways. I don't have time to get into all the good work that God did in my life through that storm, because today I'm here to talk about a different one.


The Story
April 27, 2014, 7:17 PM – 7:39 PM CDT

I'm more aware of the weather now. I take heed when a weatherman issues a warning for my county. I pray for safety because I no longer assume 'it won't hit here'.
So when I heard that Arkansas had a nasty week of tornadoes ahead of them, I began to pray. Not for my own safety, but for those that I love. My mom, my mother-in-law, my sister-in-law… each in a different city in Arkansas, each with a tornado warning Sunday night.
Since I now live in Kentucky, I followed Arkansas' warnings online. (The Weather Channel breaking alerts via Twitter).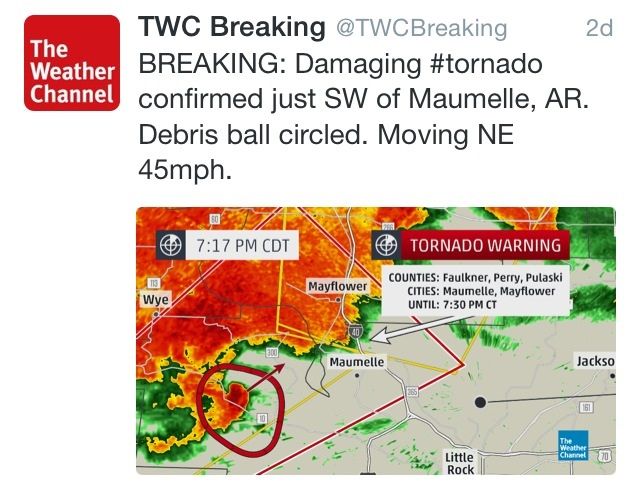 I double checked with Matt, and my fears were confirmed. Jodi's house was right where the arrows were pointing.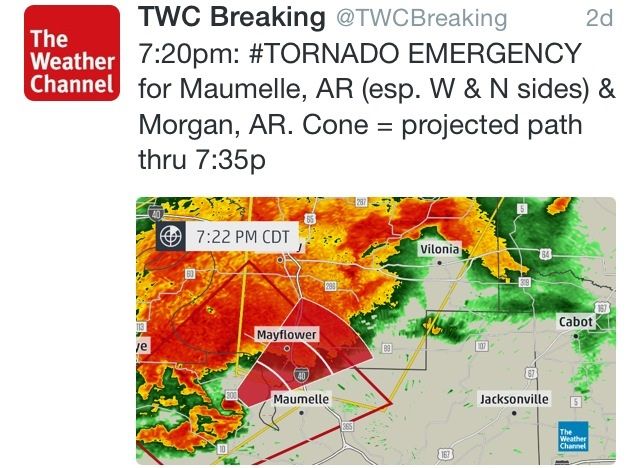 Another gut-wrenching tweet, so I texted her:
You safe? You're on The Weather Channel for Maumelle tornadoes!
She responded:
So far. No where to really go in this house.
I continued to follow the path and it kept narrowing in closer and closer on her neighborhood.
Hail? Or just strong winds and tons of rain?
Her response sent chills down my spine.
Nothing right now. Eerie quiet.
That was exactly what happened before the tornado hit my dorm room. Then I saw this. (She lives just across the Arkansas River.)


I was in the living room, and Matt in our guest bedroom. I called to him "Babe, this tornado is really scaring me. It looks like it's headed straight for your mom's house. Can we please pray for her?"
"Of Course!"
And so Matt lead us in prayer. We sat together on the couch, hand in hand, begging God for his mercy.
Matt prayed "…please allow this tornado to miss Mayflower completely, to cause no damage at all."
Then he prayed "but if you allow this storm to cause damage, please spare my mom's life tonight…. and if you spare her life tonight, please let songs of praise to You be on her lips tomorrow. Your will be done,
Amen."
As if on cue, Matt's cell phone rang. He ran to the bedroom to answer, even joking about the perfect timing of the call. "How kind of them to wait until I finished my prayer", we laughed.
But my heart was still heavy. I somehow suspected the call was Matt's mom… and it was.
He could barely understand her on the phone, but the look on his face said it all. She had been hit.
Mom, what's wrong?

Are you okay? Talk to me!

The tornado just hit?

The house is gone?

Oh my goodness, Mom. Are you okay?

Please just tell me you're okay.
"Yes" he mouthed to me, still talking to his mom.
I was trembling. I was crying. I was in shock. It happened again.
I ran to the next room to call my mom, who was also praying for Jodi from her own basement. Balling and trying to explain myself, she somehow understood exactly what had happened – that's what moms are for, right?
At 26 years old, there's still something incredibly comforting about your mom telling you "it's going to be okay". She calmed me down, she prayed for me, she thanked God with me.
Jodi was okay – God had showered us with grace yet again. She had no basement, nowhere to go really. But at the last minute, she ran into a closet and God spared her life.
I know the next day is not guaranteed for any of us. Every breath is a gift from God. Some days you are just extra aware of that – extra thankful for that. Sunday was one of those days for me.
You see, Matt's dad had just passed away three months ago from cancer. We wanted so badly for Jodi to live through this tornado, to be able to tell others about the good work God did in saving her life, to get to worship and praise God with us!
And she did. Our prayers were answered by our all-mighty, sovereign God in perfect timing.
Nobody ever wants to lose a parent, but especially not months apart. We know the trial isn't over, Jodi has a lot of hard days ahead of her. But when we hear of the families that lost loved ones Sunday night, we know we are the ones who have a lot to be thankful for.
After the Union tornado, we gathered together and I sang "Praise You In This Storm" with great emotion alongside my fellow classmates.
And now I'm singing it alongside my family…
In this Storm, too.