When we found out we were having twins, Lisa offered to make baby quilts for our two littles. Since I've wanted to learn how to sew and quilt for a while now, I figured this would be a good time for me to kick start the training process. I don't think I'll be doing much of the actual sewing part just yet, but more of the cutting, planning, watching, and learning along the way. Baby steps for baby quilts!
Once we knew we were having both a boy and a girl, I began to brainstorm what type of design I wanted to pursue. I wanted something simple, something that could grow with my littles into their toddler years. I also wanted them to compliment each other well, but to clearly be for different genders.
I decided on two simple pennant quilts with white backgrounds. I figured we could make the patterns and colors of the triangles unique to each baby's gender, but tie them together by having the same style and layout.
Here are some quilts I found on Pinterest that inspired my thought process:
 "Lucky Little Me" by Mamas Kram
I loved the color scheme in this quilt, but most of all I was inspired by the spacing. I loved the modest three rows of pennants, as well as the size of the actual triangles.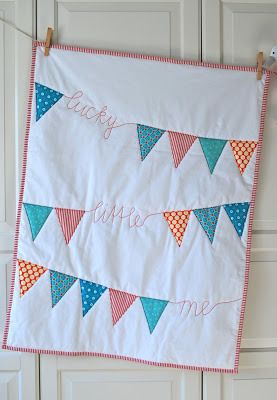 "Gus & Lula's Cheerful Shared Room" featured on Apartment Therapy
This post was really helpful to me since it was also for a boy/girl twin nursery. I liked the simplicity and the gentle color palette they went with.
"Cheap and Chic Nursery" by Amelia
This one isn't a pennant quilt obviously, but it still inspired me. I registered for some similar cribs on Amazon, so it was good for me to see that they looked good up against the pennant design with white backgrounds.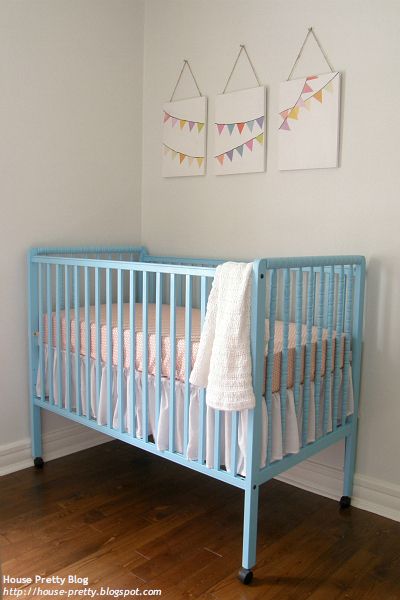 After we registered for our cribs on Amazon, they kept going in and out of stock. They were listed as Prime, which would normally qualify them for the free 2-day shipping, but for some reason these were listed as a 1-2 month shipping time. Still free – but quite a big range of when they could come in.
Both of those facts combined made us a wee bit nervous about getting these particular cribs in time for our littles. They were a good price, a beautiful color that worked well for both a boy and a girl, and they had a 4-in-1 convertibility so they could grow with our littles. So, when they went back in stock last week and unexpectedly had a 2-day shipping time, we decided to go ahead and order them ourselves to make sure they came in before our littles did.
Here's a stock photo of our cribs so you know what we were working with when designing our quilts: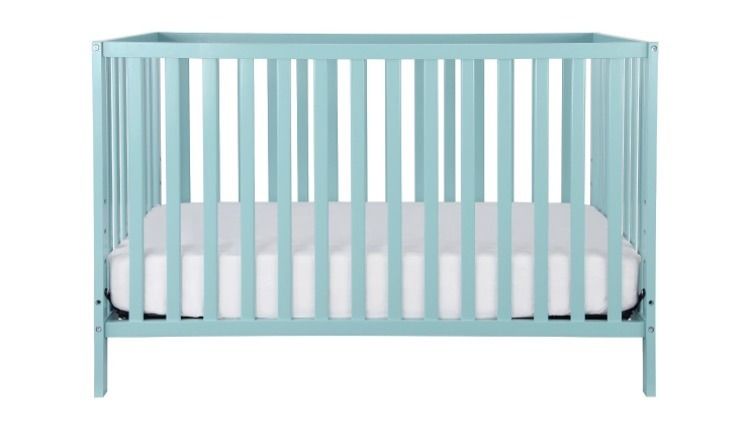 Once I decided on the white background with pennants, Lisa said my next step would be picking the fabric I wanted to use for the pennants. Lisa has a lot of scrap fabric, so I started by looking there first to keep things on the frugal side.
Lisa's scrap pile: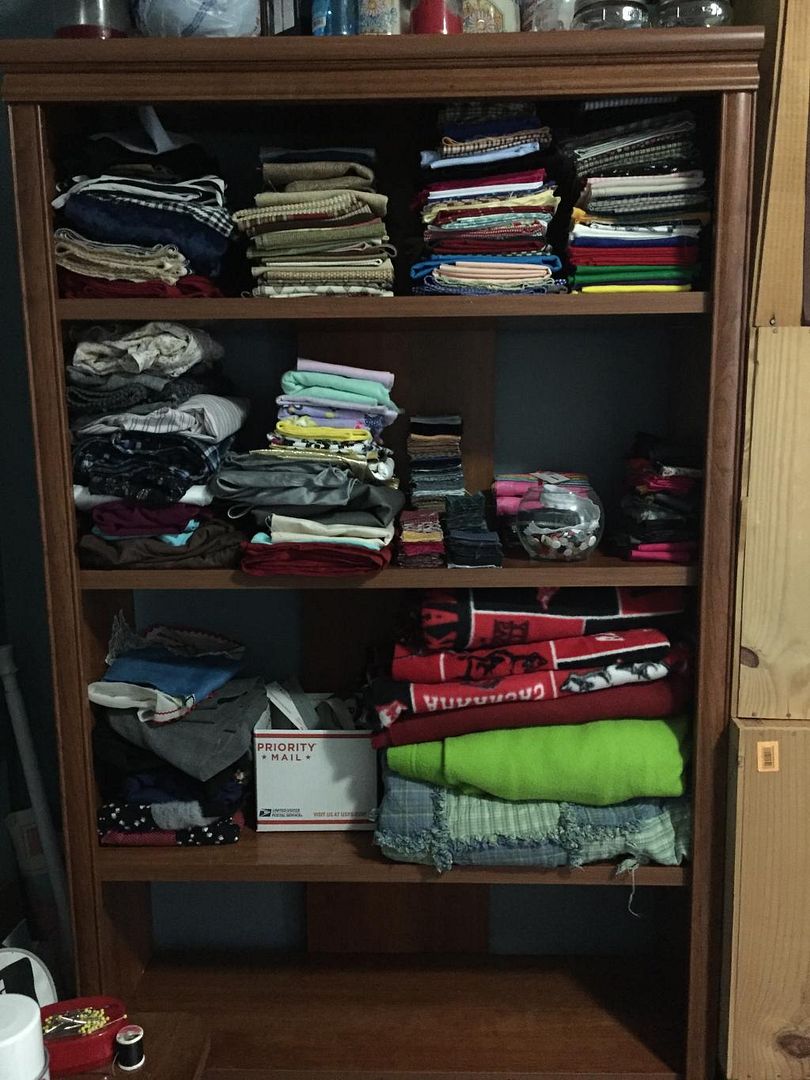 It would have been far easier to just order a fabric bundle online with a set color scheme so I knew everything matched, but we ladies like to do things the harder (but cheaper and more rewarding) way every now and then.
Here are the initial two piles I came up with…
Baby A (girl):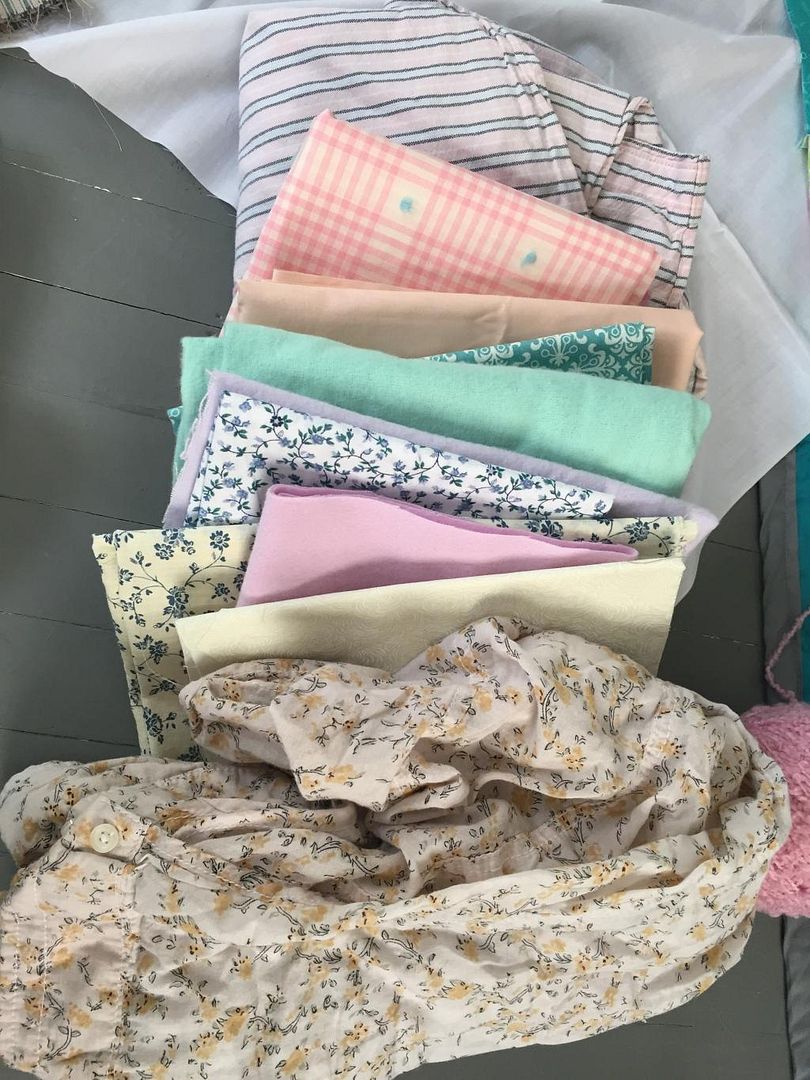 Baby B (boy):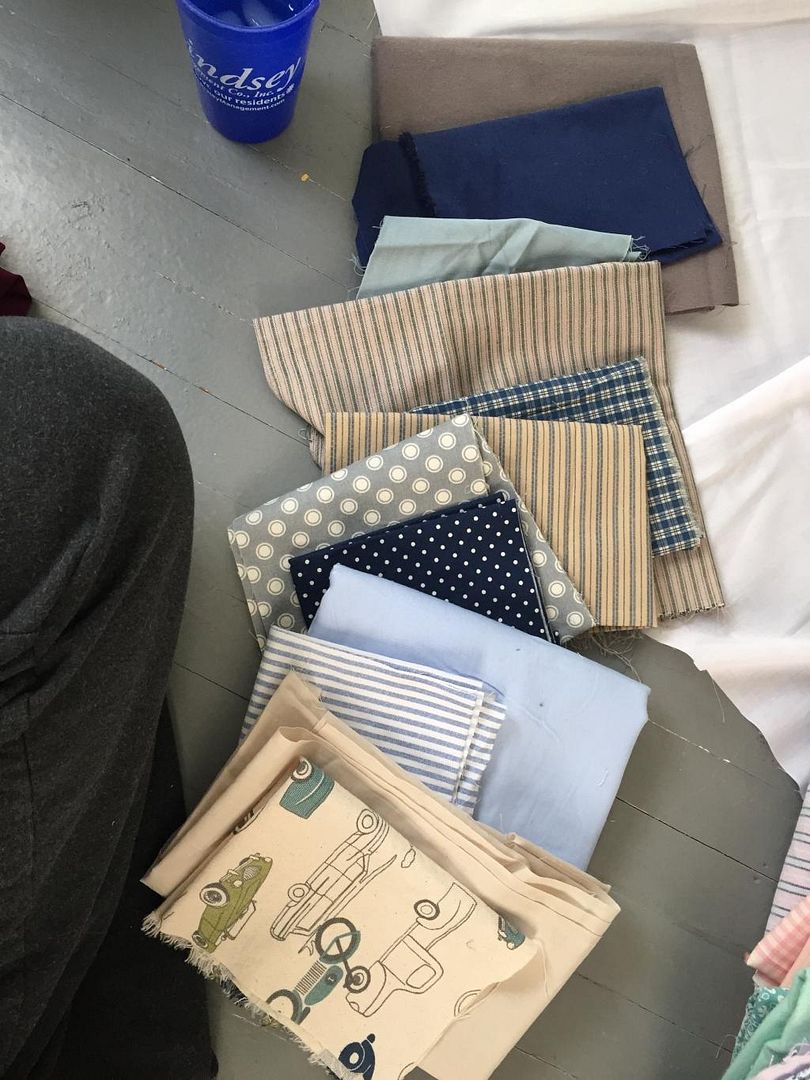 Our next step was to start cutting out pennants. We made a template out of cardboard first to make sure each triangle was the same size.
We traced it with a pen on the back side of the fabric and then started cutting!
We started with our baby girl's quilt, cutting two triangles from each fabric to begin with. We laid out our white background and started placing the pennants into three rows. Once we got the process started, I was able to decide which patterns I wanted to see more of and which I wanted to see less of.
Here's what we came up with for Baby A's quilt…
I was very pleased with the way the scraps all came together so well. We're talking about scraps from old projects she's done, fat quarters, even one of Steve's and one of Lisa's shirts made it in here… but somehow or another, they all look like they belong together. I just love it!
For Baby B we did the same thing, cutting two triangles from each fabric for starters and we went from there. We wanted the same layout for both quilts, so here's how his turned out…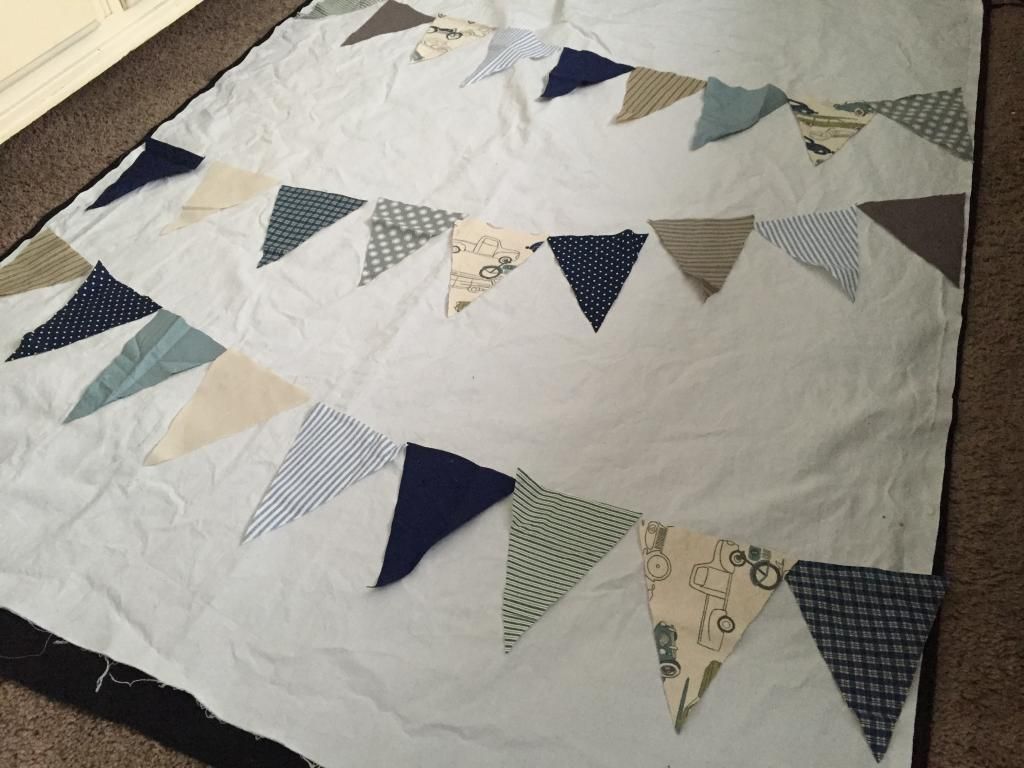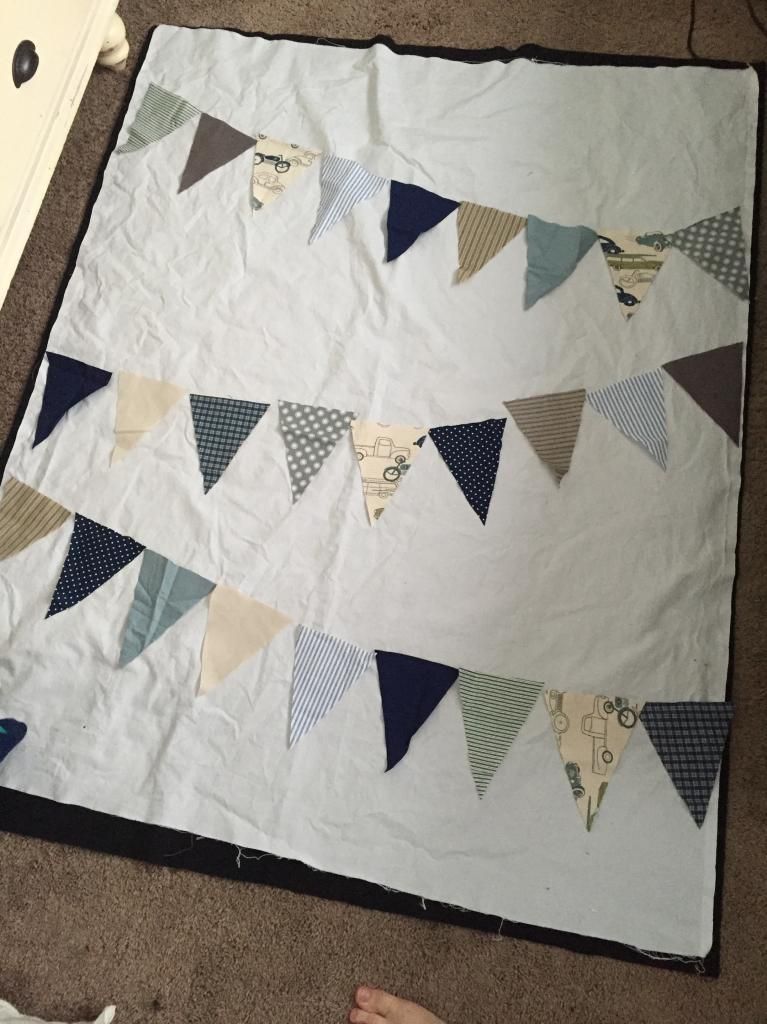 I love how our son's quilt top layout turned out too! His was a lot different than I had in mind (much darker), but I think it works really well. It has good contrast with baby girl's quilt, but they compliment each other well.
I enjoy the challenge of creating asymmetrical balance in art. This project let me take crazy patterned fabric and mix it with solids to create balance and unity without any sort of order.
I had so much fun helping Lisa out with these initial steps of the quilt-making process. The rest is totally out of my realm of expertise, so I will be letting her take the wheel on these next posts, and I'll be quietly watching and learning from the sidelines. Hopefully I'll be able to pick up a thing or two along the way, and what better project to begin this sewing/quilting journey on than my babies' quilts?
Be on the lookout for more tutorials and the finished products in the months to come!