Lisa and I were sitting and chatting about the blog one day last month, and she told me I should think of my own Saturday series to do. She started The Gluten Free Review back in January and it has done super well!
I thought about doing some art series, or maybe a new cookie recipe each month. But then I remembered how I've been dying to try more of these recipes I'm pinning on Pinterest. So I decided to challenge myself to try at least one new Pinterest recipe a month, reviewing it here!
I've named this series The Regular Review as a spin off Lisa's Gluten Free Review. This one is for all you ladies out there who eat your gluten loud and proud!
For my first month, I've decided to review Andrea's recipe for homemade thick crust pizza! Andrea blogs regularly at Andrea's Notebook, which she founded back in 2007.
For the recipe, click here.
I was originally drawn to Andrea's recipe because I was searching for a homemade pizza dough I could make on the spot. I wanted one that used only ingredients I had on hand.
This was probably back in January when I first made her pizza dough. I had loved it so much that when I created The Regular Review, I knew I wanted to review her recipe first! That meant two things: I got to eat it again! And secondly, I got to give her credit for the delicious recipe she created!
When I made it the second time (actually for the review), it was on a night we had already planned to have Joy and Kenny over for dinner. Perfect, even more people to review the recipe for me!
It's an easy recipe to follow. And like I said before, all the ingredients were things I already had on hand. Here's what my dough looked like after the first mixing, before it rose.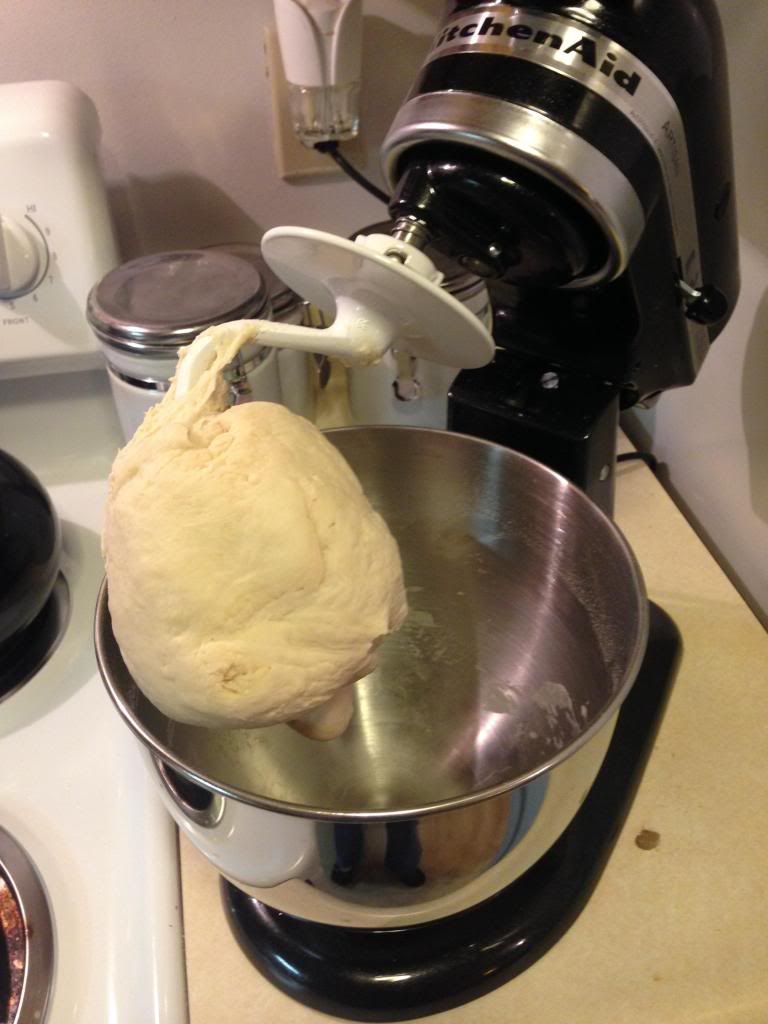 Her recipe recommends round pans, I just used one large rectangle pan since I don't have round pizza pans.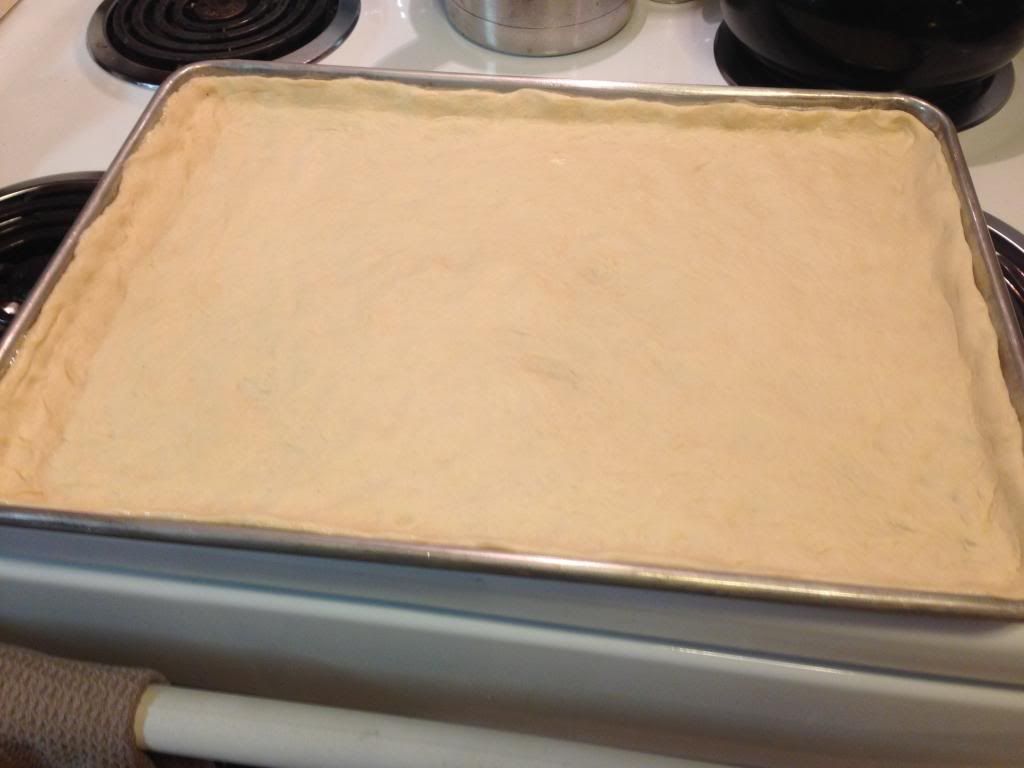 A brilliant step in her recipe – olive oil & seasonings brushed on top of the dough before cooking.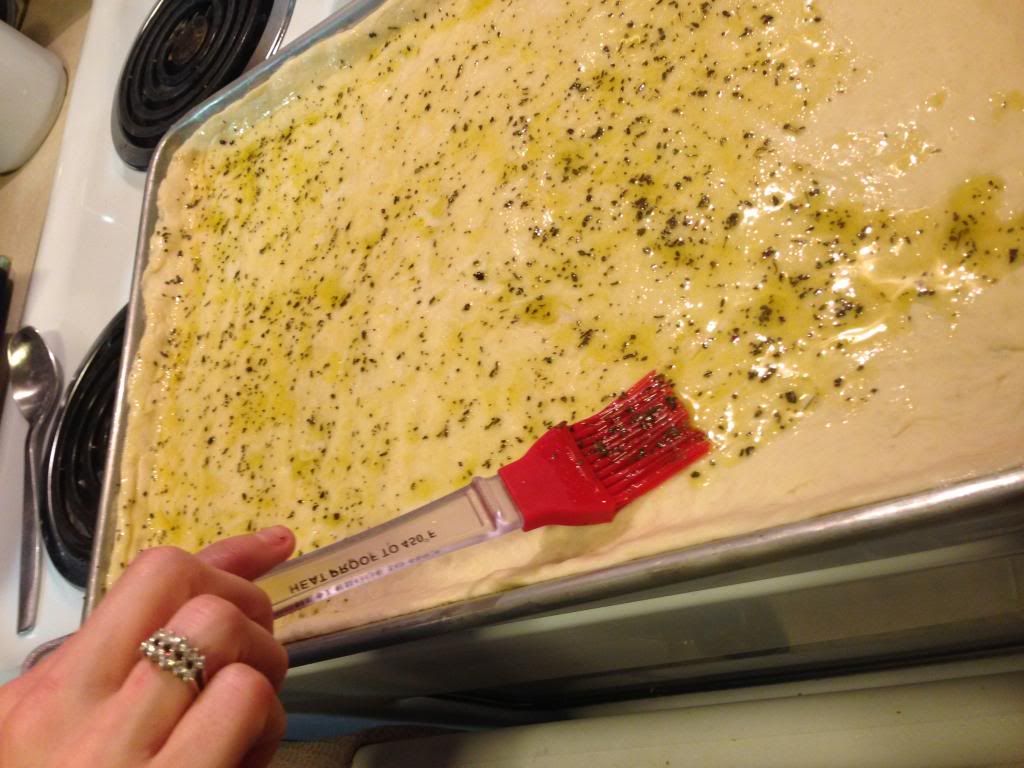 Andrea's recipe is just for the dough, so I just made my own sauce real quick. It's hard to mess up a pizza/pasta sauce!
No pre-cooking in this recipe, just pile on the sauce and the toppings! We just used what we had on hand again (story of my life), so I did a veggie third, a bacon/pepperoni third, and a pepperoni third.

Can't forget the cheese!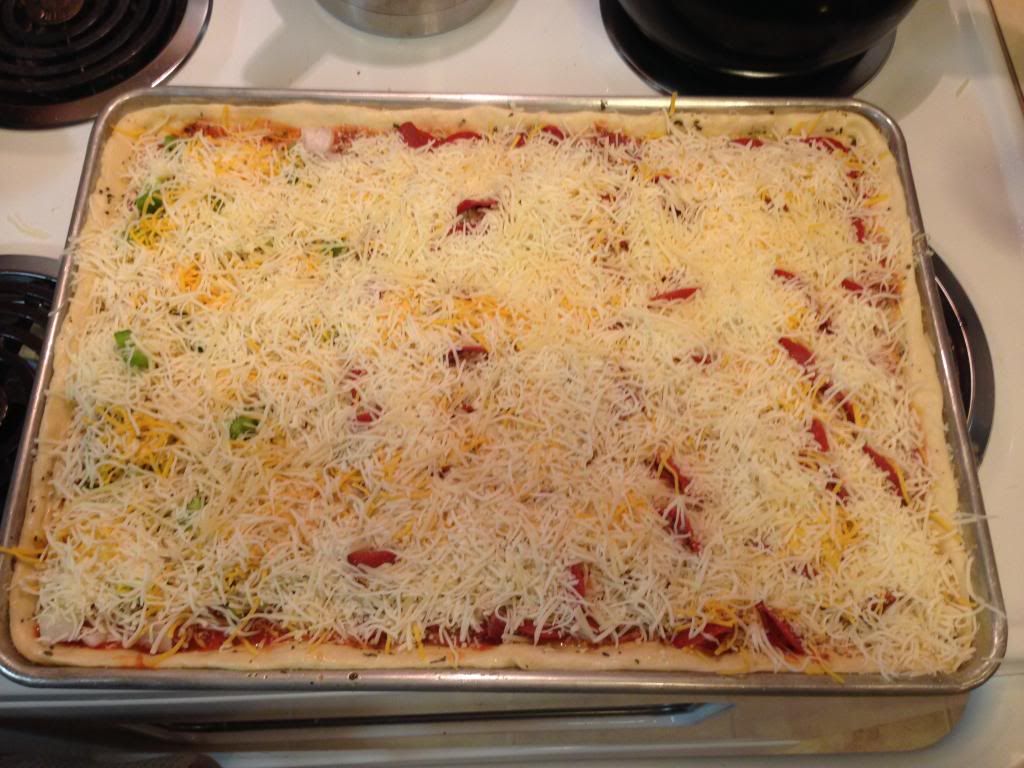 Bake it according to Andrea's directions and then you've got yourself a nice and tasty dinner of homemade pizza!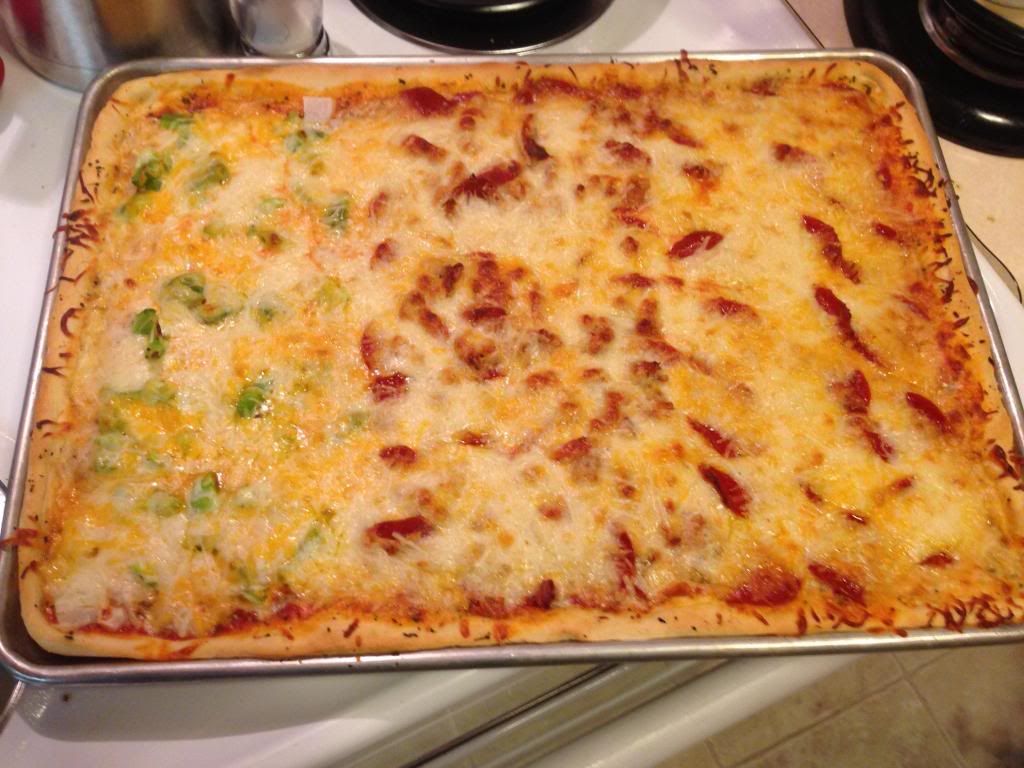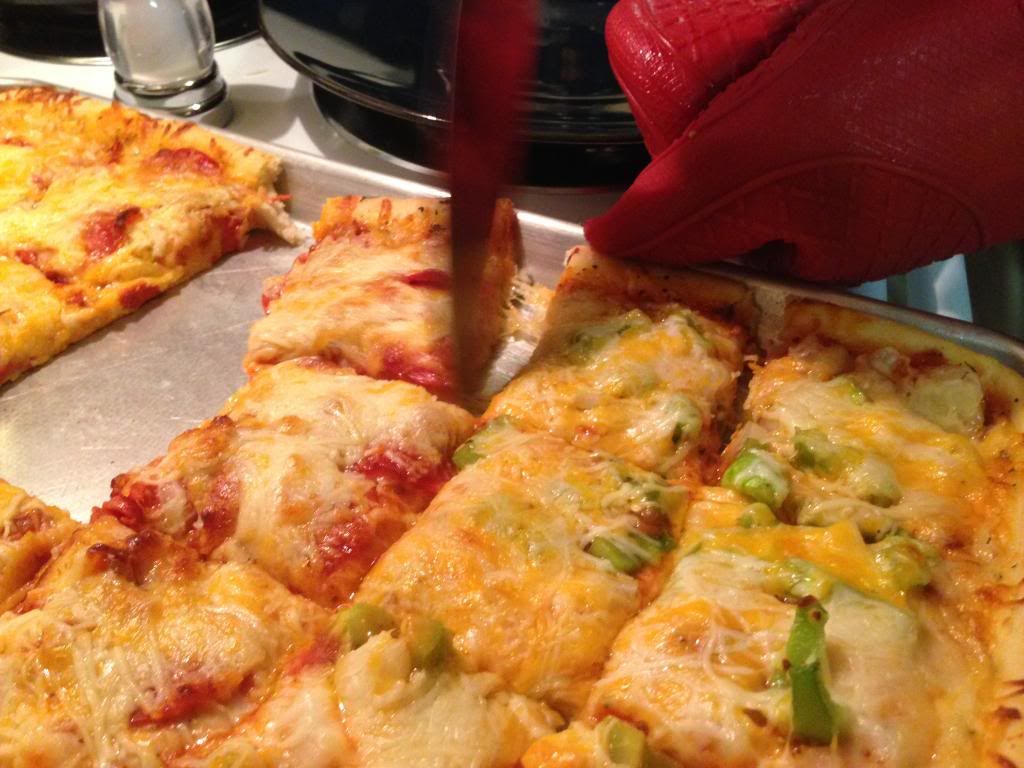 Everyone agreed with my initial assessment. Happy plates all around!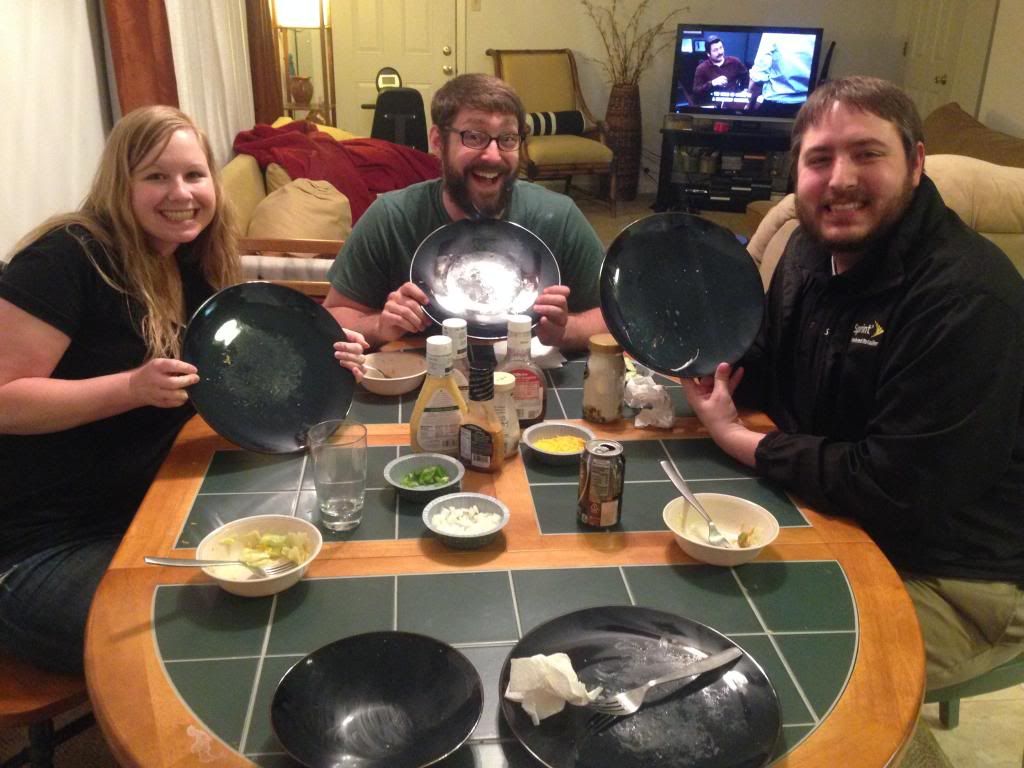 For the actual review, I'm sticking with Lisa's scale that rates things on these four categories: price, prep/cooking time, taste, husband's approval.
Here's the point breakdown:
Price: 5/5, I haven't actually calculated it yet, but this recipe will feed me and Matt for 3 meals each when paired with a little side salad. And it uses basic ingredients like flour, oil, salt, sugar, yeast, etc. So, I know it's really frugal!

Prep/cooking time: 4/5, Super easy prepping and cooking, just takes a little time for it to rise. But…you can always skip that step and it still tastes great!
Taste: 5/5, You saw those happy plates!

Husband's Approval: 5/5
I hope you enjoyed my first post in The Regular Review series. I'll share my experience trying out a new Pinterest recipe the 3rd Saturday of each month. And don't forget to watch for Lisa's Gluten Free Review still on the 1st Saturday of each month!
 Andrea's Homemade Pizza Dough Link