I'm not always super type A, but I do think it's useful to have an ongoing set of short term goals to help push yourself toward your life goals. I'm going to share some of my summer goals with you today (some serious, some silly) in hopes that it will spark some ideas to help you make your summer more fun & productive!
I'm giving myself 100 days to complete these goals, starting today! That makes my finish date August 31st, just in time for Labor Day.
1.) Beat my soccer juggling goal – I love soccer! I used to be pretty good at it, but then I got old. After my college days, it became harder to find people to play a game with. After all, you need 22 people for a full game. I don't want to lose all my soccer skills, so I'd like to pick up juggling again in attempts to save the little bit I might have left. My old goal (set years ago) was 365, so that's what I'm trying to beat!
2.) Sell 5 paintings – I have a few paintings lined up to do for baby gifts already, so those will obviously take priority. But after that, I'd love to try to get some paintings done and see if I could make a little profit off them.
3.) Climb this tree – Lisa and I were walking at a local park about a month ago when we found it. You can't tell from the picture, but that big branch is the perfect reclining branch. I instantly took it as a challenge. We tried running starts, Lisa boosting me, using her dog's leash (pictured), and standing on a big rock for a little extra height. All attempts were unsuccessful. I told Lisa that by the end of the summer I would find a way, whatever it takes, to get on that branch! Wish me luck!

4.) Read this book - Systematic Theology by Wayne Grudem. I know, I know… it's HUGE! Just under 1,300 pages – textbook size. Usually a book that people would reference more often than reading cover to cover, but I do things backwards sometimes. This one will be tough for me to stick with, but I'd like to at least give it a try.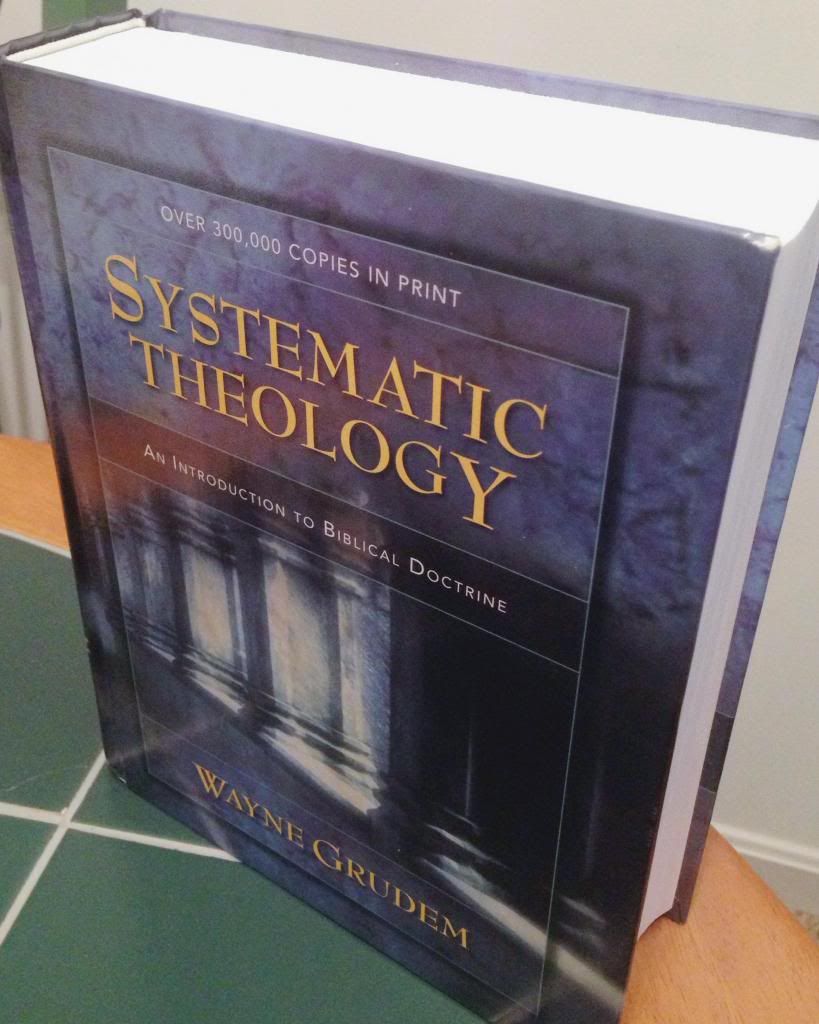 5.) Master Gramman's caramel cake recipe - My sweet grandma makes the best southern caramel cake ever! She taught me how to make it last Thanksgiving, but I have yet to try it on my own. It seemed pretty difficult though. Like one of those recipes you have to try again and again until you learn all the ways to do it wrong before you get it right. As you remember, my Gramman was diagnosed with cancer last year and is choosing not to do treatment, so I'd really like to master this recipe before she passes away.

6.) Spell my name on RunKeeper – Okay, don't laugh at me on this one, hear me out first! There's this app called RunKeeper that's awesome – probably my favorite fitness app. It uses GPS to track your runs giving you all kinds of stats with each one, including a map of your run. So, one thing lead to another and I decided to try and spell my name. This was my first and only attempt at this so far. I'm determined to get good at it by the end of the summer. Not too bad for a first try though, right?

There you have it – Cara's summer 2014 goals. It's obviously not all my goals, but some of the ones I've actually written down at least. Mastering my Gramman's caramel cake recipe might counteract all these fitness goals I have. But let's be honest… it's not like I'm trying to run a marathon here. I think I can eat some cake and spell my name too.
So, what about you? Are you a goal-setter? What are some of your summer goals this year? Let me know in the comments section!