This is an amazingly simple craft to do – and it is fun to do with children of all ages. We frequently had place cards at the Thanksgiving table when I was growing up, and oftentimes they were somewhat handmade, which I think adds to their value particularly for a holiday so centered around families and gratitude. There is something so great about feeling like you did something to contribute to the Thanksgiving preparations, even if it was something small.
Supplies:
Pine Cones (one per place at the Thanksgiving table – we have pine trees in our yard so these were free, and the kids helped collect them)
Tissue Paper (one sheet each of four or five colors)
Brown and orange felt (or construction paper works as a substitute)
Googly eyes (two per turkey)
White Paper
Pencil
Children can help out with any of these steps that they are capable of doing – for a preschooler, this may mean helping pick out the pine cones, helping stick the items in the glue (if you use Elmer's), and helping to stick the tissue paper feathers in the turkey. Older kids may also be able to help with the various cutting and writing tasks. Let your child or children work alongside you and participate in whichever things they can. Even if they can't do much, they will still very much enjoy being a part of this craft – even my one and a half year old loved being included, even though he wasn't able to really "help" at all. Just hanging out with us and folding a few pieces of tissue paper made him as happy as could be.
Cut out a strip of the brown felt (or construction paper) for the turkey's head, giving one end rounded edges and leaving the other end long enough at the bottom to stick down in the pine cone. Then, cut out an orange triangle and use glue (hot glue for felt, Elmer's for construction paper) to glue the orange beak and the googly eyes on the turkey's head.
Now you will want to the pine cone on its side and figure out which way it wants to sit. You don't want to glue the turkey head in only to end up with a sideways turkey that refuses to stand up straight. So, before you glue in the head, figure out where it needs to go so that the head will be facing up.
Apply some glue down in the tip of the pine cone where you want the turkey head and stick the end of the turkey's neck down in the glue. Turn the head up and apply a little more glue at the back of the turkey's neck and press the turkey's head into the glue until it holds on its own.
Cut the tissue paper into strips that are about 2 inches wide and 5 or 6 inches long. You will need one strip of each color per turkey. Fold each piece of tissue paper into a loop and then twist the ends to create a puffy looking feather.
Stick the feathers into the back of the pine cone. Young kiddos love this part and it requires no glue to stick, so they can just go to town sticking the tissue paper in the back of the turkey. It may not turn out looking quite like pictured, but what is more important is whether they have fun and are proud of the way their turkey looks.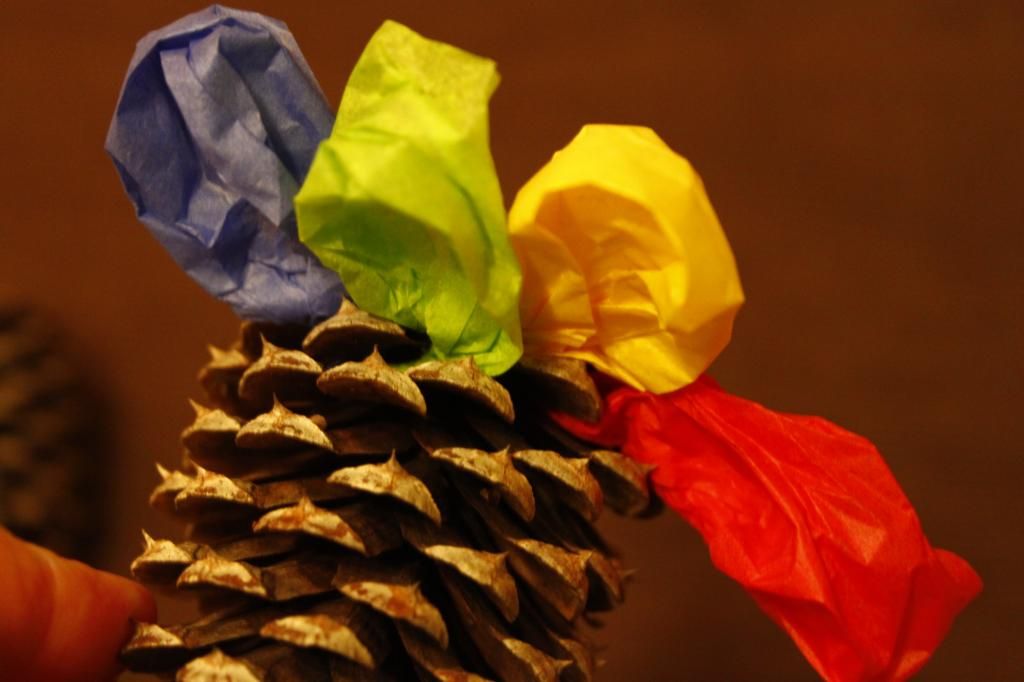 With older children, you can have them write out the names of everyone, or if you only have small children, you can do this yourself.
Stick a name in each turkey and you're all set for the big feast.
We had fun making these turkeys and I'm sure it will make the feast more memorable for the kids. These turkeys take very little time to put together, but they look so cute finished.