People are often surprised when I tell them that the majority of my clothes are from thrift stores. I'd say at least 75% are. And the rest are probably just good sales at 'real' stores. When I know I can find things that fit my needs for cheap, then why not? I love finding a good deal!
If it ever became something that was stressful or took too much time, then I'd consider spending more. It's not that we don't have the money, it's just that the more we save here, the more we can put into savings for future kiddos, cars, houses! The more we can afford to share with others! The more we can travel! The more we can give to our church! The more we can go out to eat and try new local restaurants!
We're trying our best to honor the Lord with how we handle our finances, and we're resting in God's grace when we fail.
A lot of people will compliment the way I save so much money on mine and Matt's wardrobe, but they don't know how to get started themselves. Here are six tips that I've learned through the years when it comes to thrifting. If you're wanting to get started thrift store shopping but don't know how, then hopefully these will help!
1.) Ask the locals
A lot of times the best thrift stores aren't found simply by googling 'thrift stores in Louisville'. They're the hole in the wall places that only the locals know of. Goodwills are great and all (we actually have a really good one close by in Indiana), but is it possible there's something more to thrifting than just Goodwill? YES! Ask around and see where your town's fellow thrifters are thrifting.
2.) Have a budget
Just because it's from a thrift store doesn't mean it's cheap! Remember not to buy everything you see without checking prices. If you wouldn't pay that price on retail, then you definitely shouldn't pay it at a thrift store. I try to keep a mental limit for each item ($5 for shirts or pants, $7 for dresses, $15 for coats, etc.). I'm not saying I'll never break those rules. I just think it's good to have a gauge so you stay on track with what's a good deal for you and what isn't.
Also…if you don't have a family budget then you should! And you should have a clothing category. Clothes are a necessity, and I don't mean that in a fashion diva sense. I mean it in the 'you can't go outside naked' sense….so budget for your clothes. Things get worn, bellies grow (or shrink), laundry accidents happen. Don't feel guilty about setting money aside for clothes! You're more likely to impulse buy clothes for way too much money if you never allow yourself to go shopping.
3.) Bring a friend
Even if you have a terrible experience thrifting, you'll make a great shared memory this way! You'll likely find better clothes than if you went solo. Friends encourage you to try things on you normally wouldn't. Some of my favorite memories with Lisa are all the times we've thrift store shopped together. It's just funny to watch each other try on clothes 10 times your size – or three decades older than you!
4.) Go often
So you went a few times and never found anything? You've now decided that 'thrifting isn't for you'. Don't give up so easily! Thrift stores flip their inventory all the time! When I lived in Arkansas, my brother and I had a weekly 'thrifting/coffee date' together. We checked out our favorite local thrift store every Saturday. And let me tell you….every Saturday there was almost a completely new stock of stuff! It was rare to recognize a shirt from the week before. So, just because you didn't find anything you liked this week doesn't mean you won't ever!
5.) Don't pay attention to sizes
Exhibit A: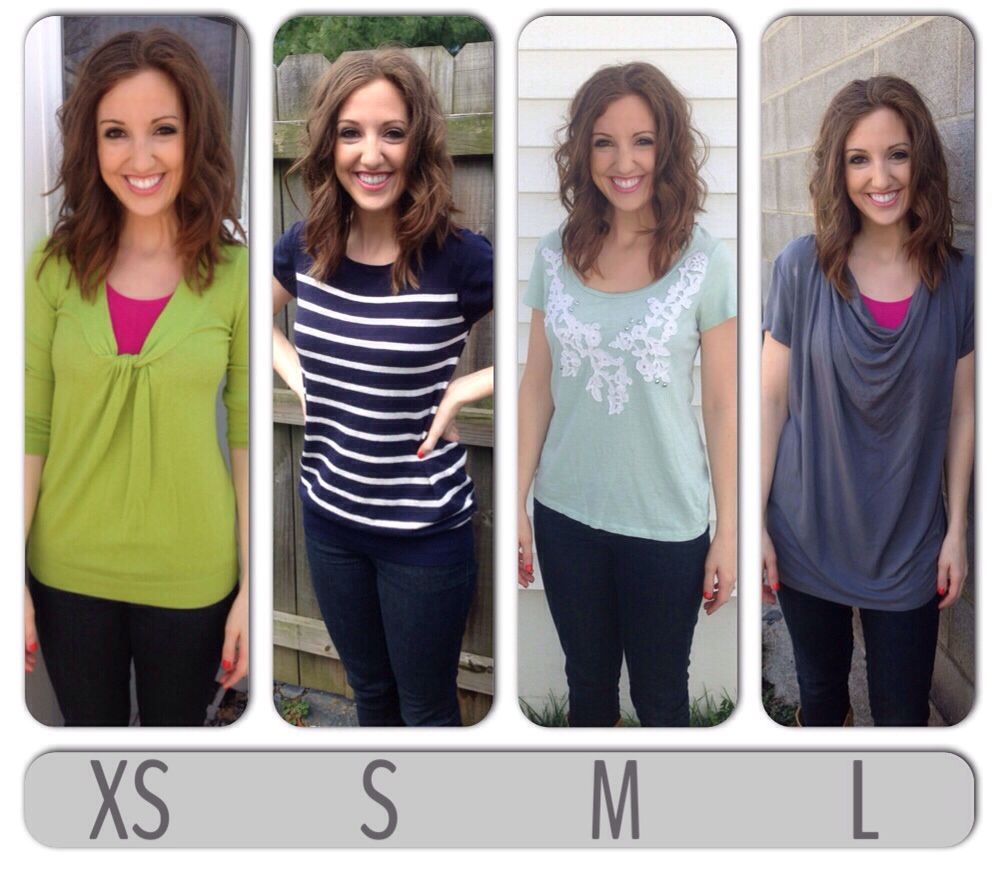 Exhibit B:
Try on things you normally wouldn't dream of trying on! Buy things you normally wouldn't dream of buying! After all…it's probably less than a dollar anyway. This is a no-telling-how-old 'old lady skirt' three sizes too big for me. How would I have ever found this jewel if I hadn't taken a chance on it?
And remember, ladies…way-too-short dresses make great shirts:
Happy thrifting!