We can't forget our little princess, Cherish Grace, who also turned 1 month old this week. She grew more in length as bubba grew more in weight. She has grown a whole 1.5 inches since birth!
She weighed in at 7 lbs 10 oz making her total weight gain this month 2 lbs 7 oz. You would never know she's gaining so much because she will always feel as light as a feather after holding Liam.
And while she's a good eater, she's an even better burper! Sometimes we will pick her up to put her on our shoulders and she will let out the loudest belch you've ever heard before she even makes it there.
Cherish would probably be close to sleeping through the night if we didn't wake her up to eat when bubba gets hungry. She's had a 5 hour night, a 6 hour night, and an 8 hour night! It's best if we keep them on the same schedule (for everyone's sake), but there's always exceptions to every 'rule'. So sleeping beauty sleeps longer than her brother from time to time.
Cherish has been called an expressive and alert newborn from day 1 in the hospital! She has quite the collection of funny faces. She won the NICU pediatrician over with her 'pirate stink eye', and our personal favorite is her scowl.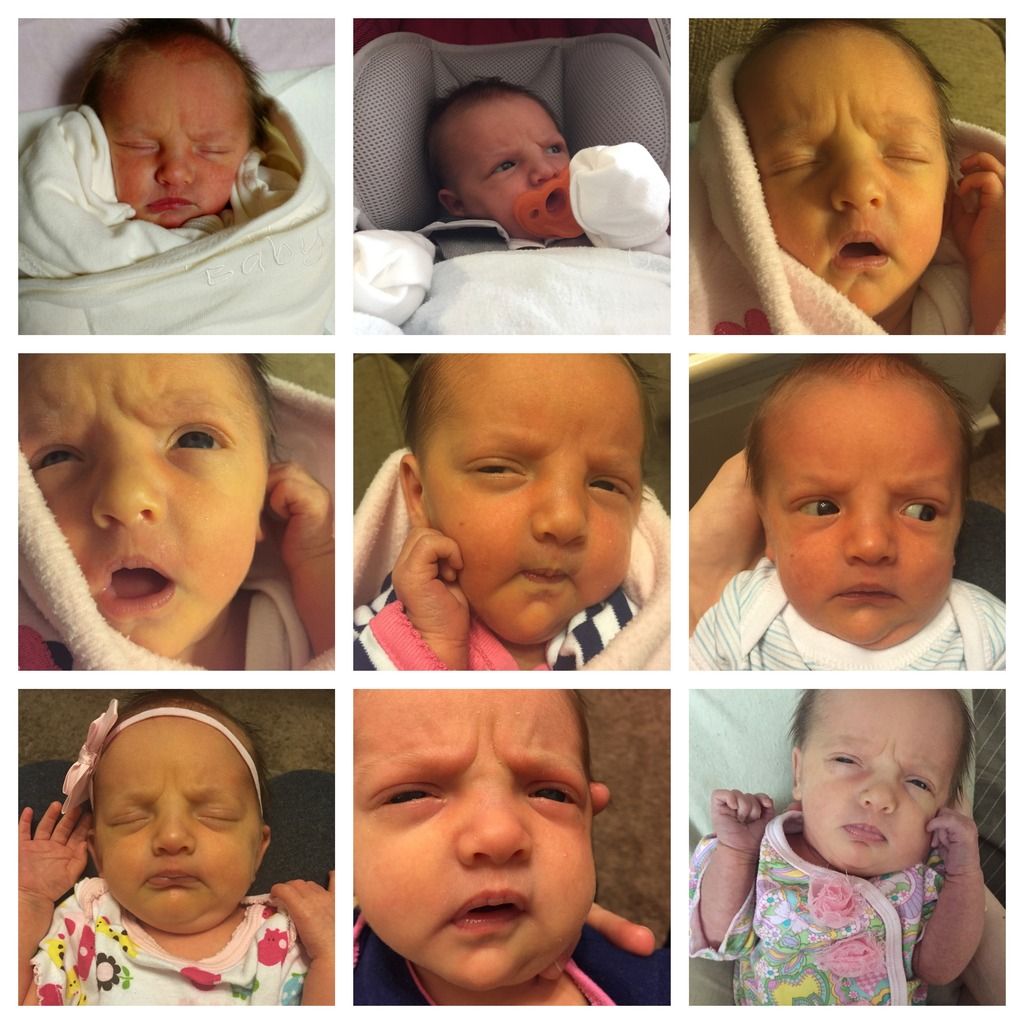 She's recently found her smile and has even laughed out loud two or three times now!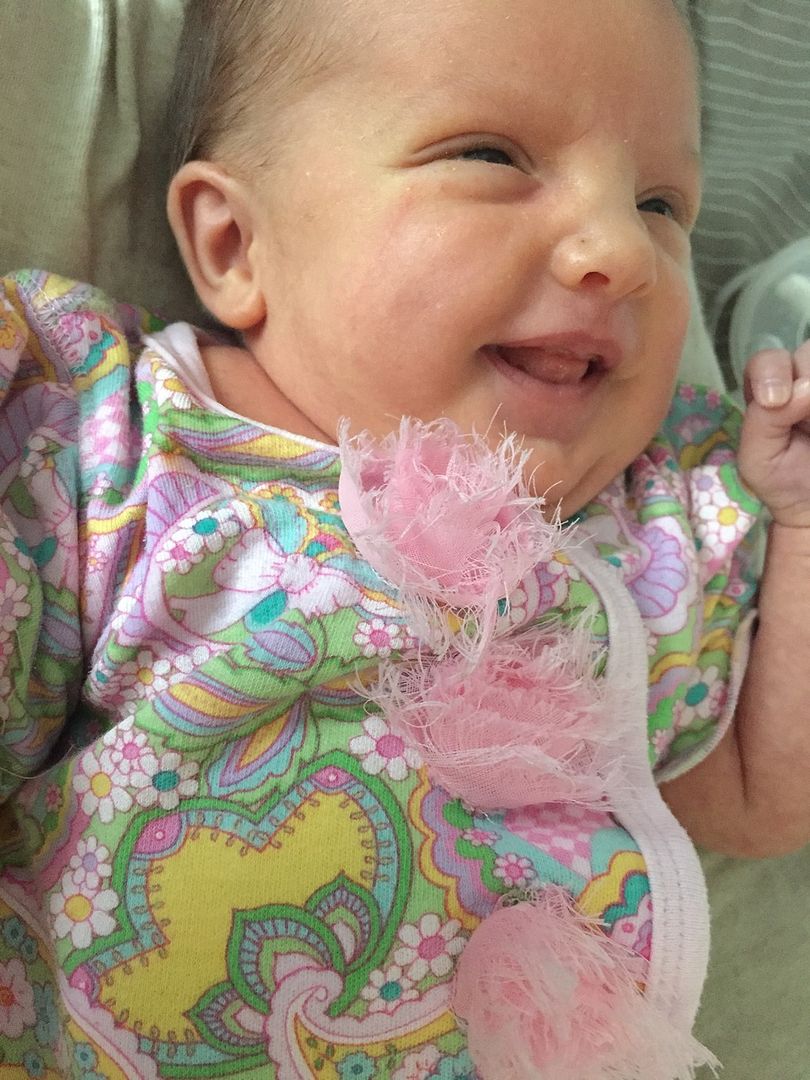 Cherish is great at putting herself to sleep and usually will just lie awake in her crib completely content if she's not tired during nap time. She definitely doesn't mind when bubba joins her for a nap, but she couldn't care less either way at this point in time.
But if she has a bellyache that's making it hard to sleep, napping on Daddy's chest is always a sure fix!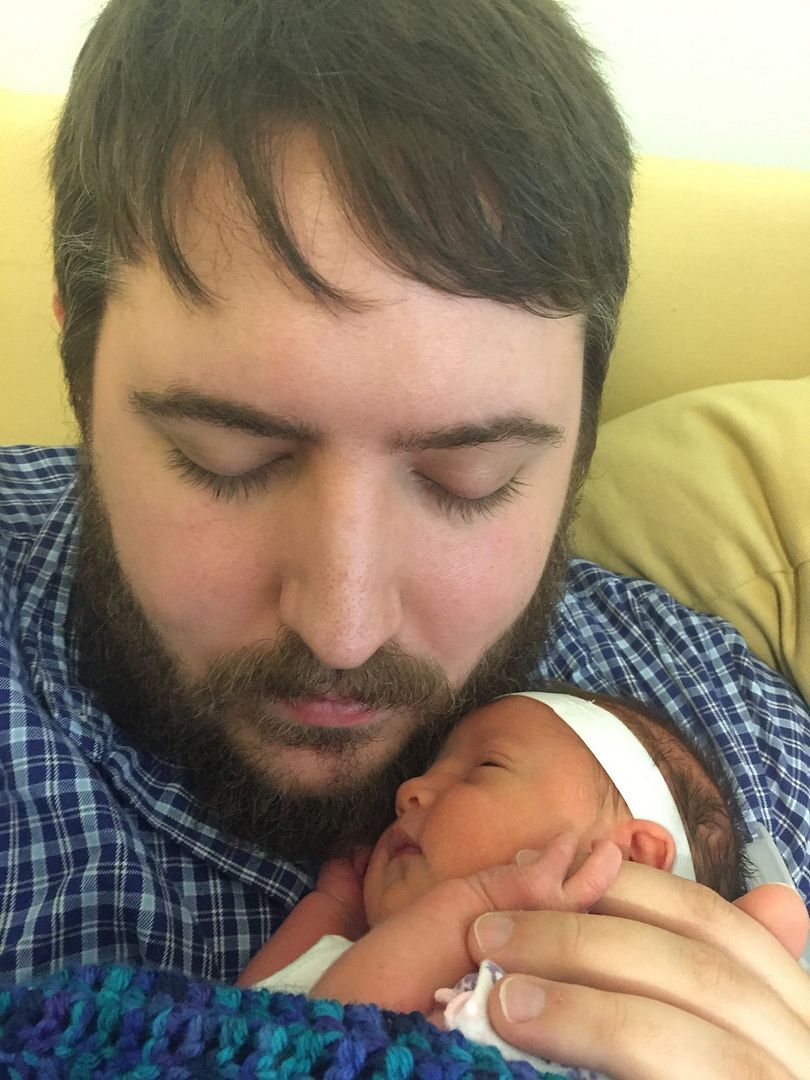 She will take a paci when she wants one, but she'll spit it right back out at you if she doesn't. She has even managed to throw one about 2 feet. She likes the vibrating bouncy chair, but the swing is definitely her go-to favorite.
Like her brother, she loves the Moby Wrap! She has helped mommy wash many-a-dishes this way and we even planted a vegetable garden together with the help of the Moby.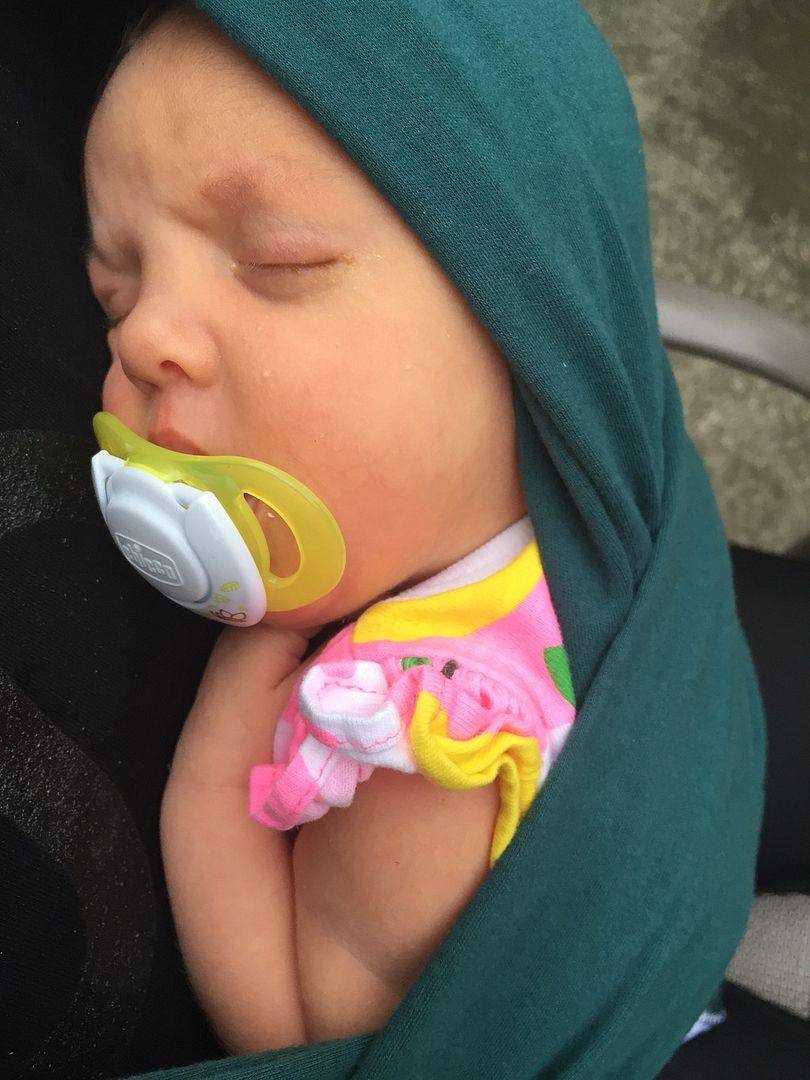 If we had a dollar for every time we were told that Cherish is the spitting image of me, we would have this little girl's college fund saved up already! Even strangers in the store and at the park stop to tell me she's my mini me.
She's met both her grandmas and loves them dearly. She's looking forward to meeting her aunt and uncle soon!
Cherish is generally a content little baby, but she has a shrill cry that she busts out when she's hungry or gassy. We think her and her brother's loud cries are a gift from God since Matt and I are both deep sleepers. Cherish is also a deep sleeper, sleeping through mommy's vacuuming and bubba's cries.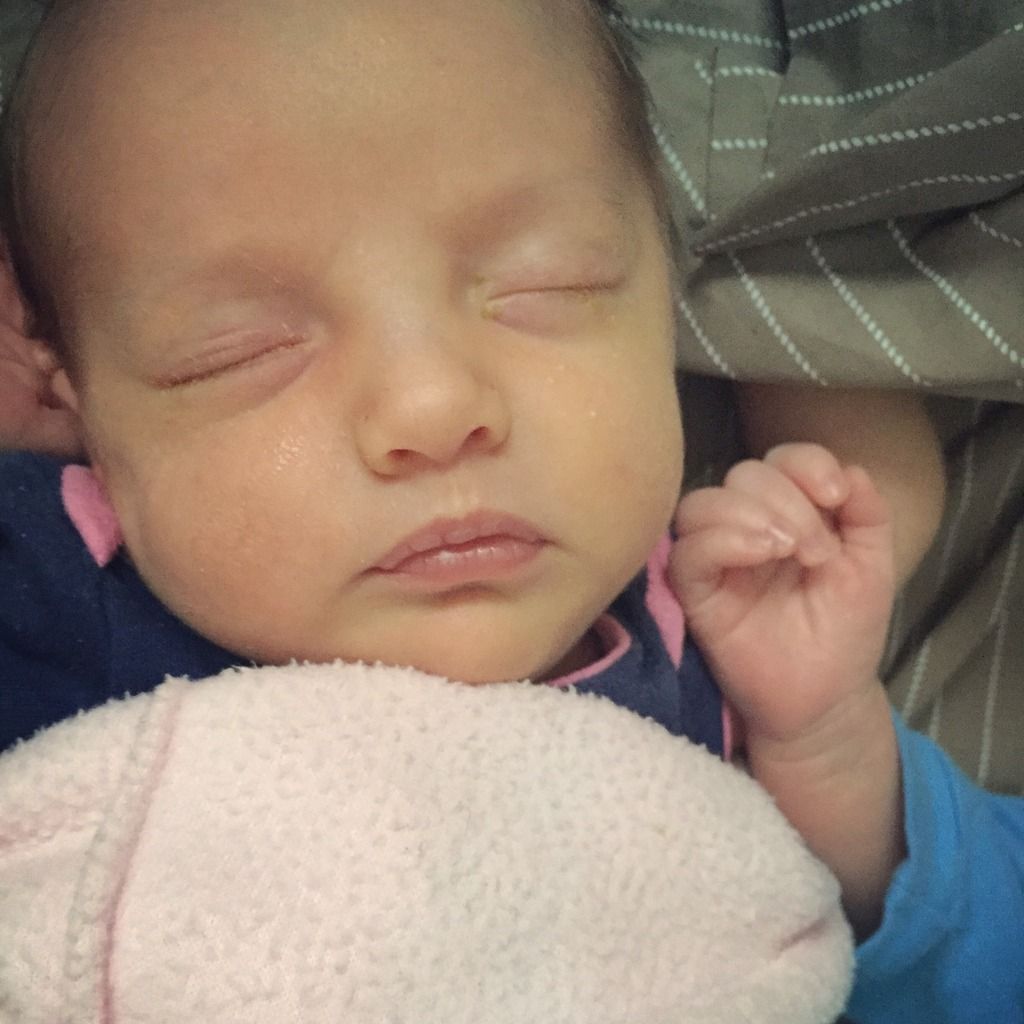 Cherish was born with a full head of spiky brown hair that's extra fluffy after bath time. Her head is so tiny that only a handful of her bows fit right now, but she's looking forward to the day when she can wear all the rest of them!
She loves a warm bath and lotion massage to follow, just like her mama!
We like to sing to Cherish, putting her name in every song under the sun. From Bohemian Rhapsody to the Brady Bunch theme song. We love to make fools of ourselves for the sake of a smile from our baby girl!
Just recently Cherish has gotten the biggest kick out of being tickled in the face with mommy's hair. She has such a tiny little mouth with an adorable smile.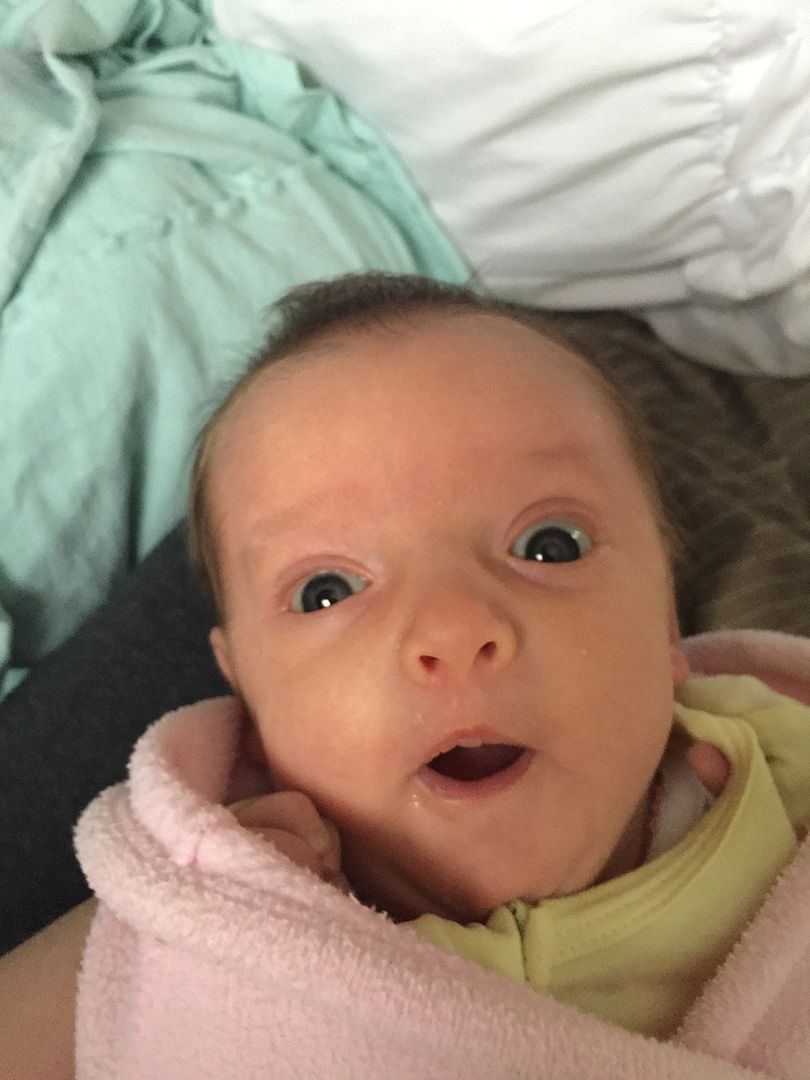 She's just as much of a happy baby who loves eating, sleeping, burping, and scowling! We love to watch her grow and develop. Happy 1 month, sissy!