Our baby boy turned one month old a few days ago, and you would never know he was a preemie twin! He is growing like a weed, and we couldn't be happier about it.
He topped the scales at 9 lbs 11 oz! After losing a little bit of birthweight initially, he has gained that back plus some extra making his total weight gain for this first month 3 lbs and 6 oz. He also grew 1 inch longer, making him 20.5 inches now!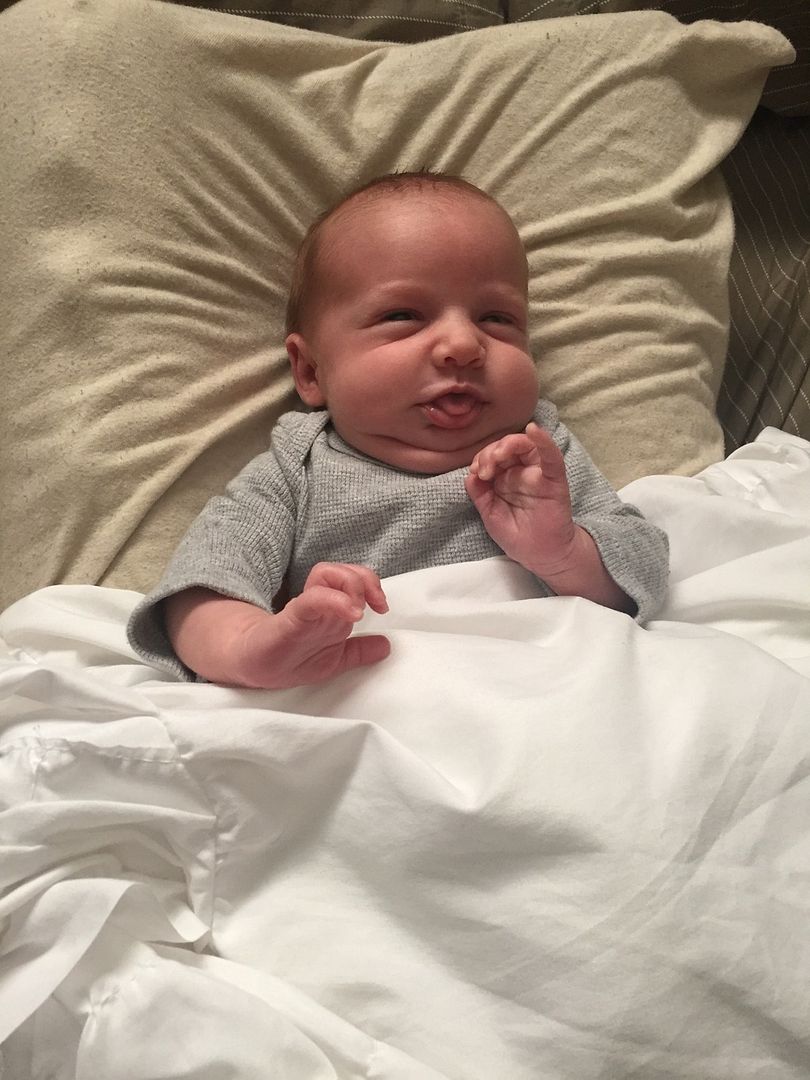 Matt and I love to sing silly songs to him and I'll often sing "Little Liam" well, actually it's more like… "Wittle Wiam" …but it looks like I will have to cut the "Wittle" part soon because this boy is taking after his 6'2″ daddy! We nicknamed him "Chunk" on the day he was born. 6 lbs 12 oz may not seem like a big baby, but when you are born 4 weeks early and you shared the womb with sissy… it's pretty big! Looks like this fellow is going to live up to his nickname though.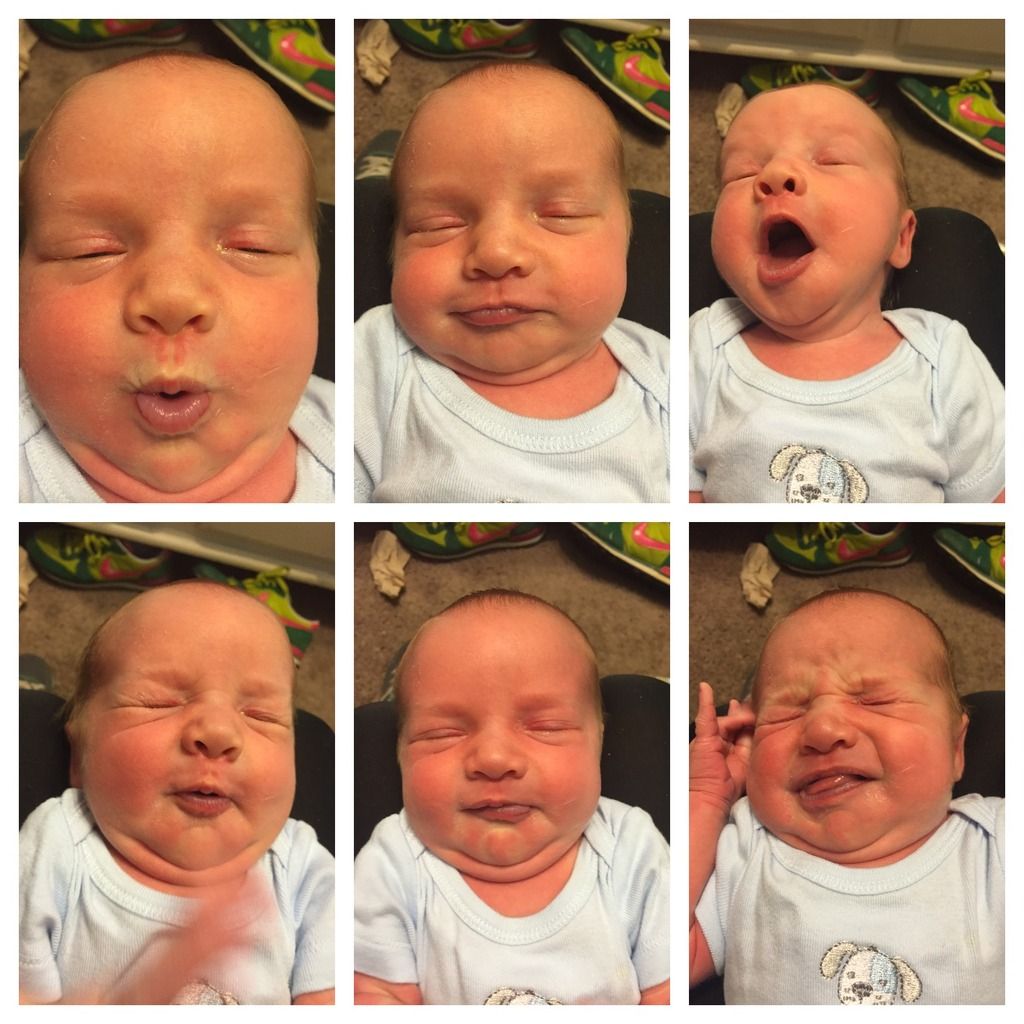 Liam loves to snuggle. He's not picky about who he cuddles with, but he just loves to be held and be around people. Sometimes if he's having trouble falling asleep for a nap, I'll put him in sissy's crib just so he can know somebody is close by, and that usually helps to comfort him enough to fall asleep. For the most part though he can comfort himself to sleep. I will lay him down awake and he usually falls asleep on his own.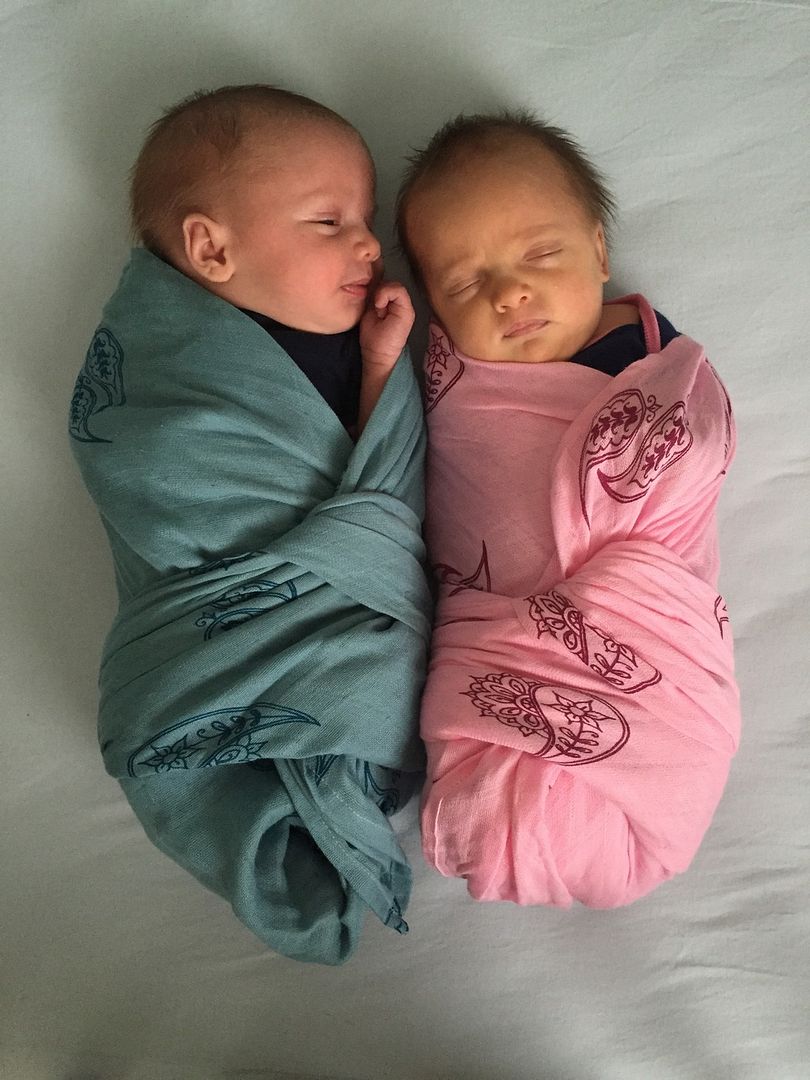 Liam also loves to eat… obviously. He takes about 4-4.5 oz of milk roughly every 3 hours. He has even been known on more than one occasion to hold his own bottle for brief periods of time! He's that serious about making sure his food stays with him at all times.
He loves a warm bath and a lotion massage afterwards. He does not, however, like that the lotion is cold at first. So I rub it in my hands really good to warm it up a little before I slather it on him.
Even though his head is quite big, he's gotten really good at lifting it and turning it to look around the room. He gets startled easily and will throw both his hands into the air and turn to look for where a noise came from.
Liam likes to stare at the TV if Mommy and Daddy are watching something while holding him. He even saw American Pharoah take the Triple Crown at the Belmont!
He sleeps through the night as well as we could hope for a baby at this age. He usually sleeps for two 3.5-4.5 hour stretches during the night. He has had one 5 hour night and one 8 hour night! But that one was definitely just a fluke. And believe it or not, he sleeps through sissy's cries, which is a blessing to us all.
He stays on the same sleeping and eating schedule as his sissy because mommy would never sleep if we didn't keep somewhat of a schedule for these littles. Schedule is a loose term though that adjusts depending on what we have going on for that day.
His hair is getting lighter every day and in certain lighting it has a slight red tint to it. He has a full head of hair, but it's extra thick in the back.
He loves it when we tickle his face and he will give us the biggest gummy grin! I can't wait to see the big beautiful smile this boy will have once he has teeth.
He loves his paci, is indifferent to the swing and the bouncy chair, but his favorite ever is the Moby Wrap. Again, this boy just loves being around people and being held!
His toots are soooo loud, and he makes more dirty diapers than you could imagine. He projectile pooped on daddy once already and has peed on mommy twice now. He outgrew his newborn diapers in week 2 and he's now in a size 1. He just outgrew newborn clothes this past week and now wears a 0-3 month.
He looks adorable in overalls, but you'll generally just find him in a onesie around the house.
He's met both of his grandmas and already wishes they would come back to visit him again!
He loves to read with Mommy, and they just started to work through The Jesus Storybook Bible together.
He's generally a happy baby who just loves to eat, sleep, poop, and snuggle. He's our Little Liam and we love him so much already! Happy 1 month, Bubba!