If you notice that my symptoms don't quite line up with your timeline, don't worry! Apparently, twin pregnancies track about 6 weeks ahead of singleton pregnancies with respect to symptoms and measurements. At least that's what my doctor says!
While a 25-35lb weight gain is recommended for a singleton pregnancy (assuming a healthy pre-pregnancy weight), my doctor has recommended a 40-50lb weight gain for my diamniotic dichorionic twin pregnancy. Those fancy words translate to 'my babies need a lesson on sharing as soon as they exit the womb'. Not all twins have their own amniotic sac or their own placenta, but my uterus is hauling two of each! Bring on the weight!
I'll try to do an update every week or so, but we'll just play it by ear and see how I'm feeling!
How far along? 19 weeks
Total weight gain? 17 lbs. Right on track so far, although I certainly feel like I'm gaining weight everywhere except my belly!
Maternity clothes? Still sneaking by with my one pair of maternity jeans. A friend sent me a promo code for 2 free belly bands (you just pay shipping), so I ordered those and I'm sure I'll be using them any day now. I'm going to try to squeeze into my pre-pregnancy tops and dresses as long as I can.
Sleep? Still a big fat no here! I stumbled across this photo on Pinterest earlier this week. I think it sums up my current situation quite nicely.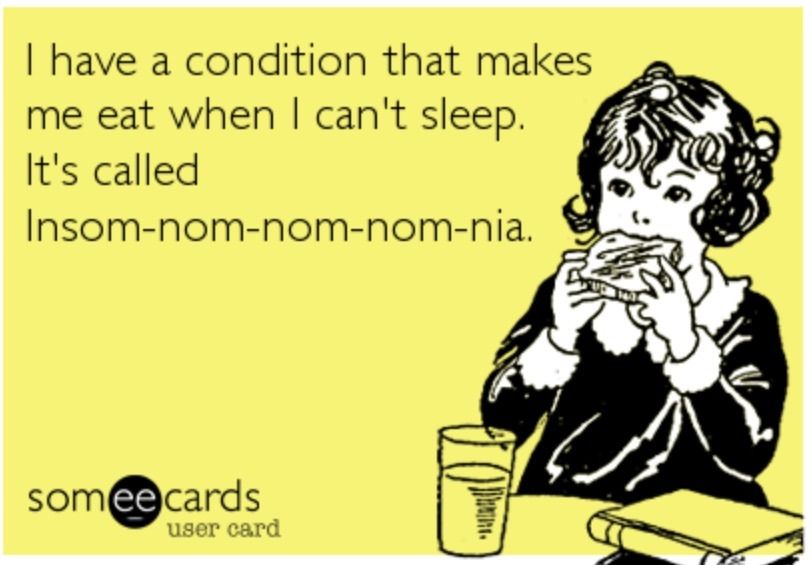 Best moment this week? Realizing we're halfway there! Since I'm having twins, I'll be induced at 38 weeks if I don't go into labor before that. The babies and I celebrated with Ben and Jerry's 'Half Baked' ice cream. Okay, okay…we let daddy have some too!
Miss anything? The ability to follow through on my plans. I hate how much I've had to cancel on people lately and let to-do lists go undone. I get excited when I have a few good days and I try to plan a lot and then it feels like out of nowhere I'm sick again.
Movement? Yes!!! This is my favorite question to answer now that I'm feeling them more and more all the time. They are both positioned more on my right side (hello future lopsided bump!) so I've only felt them over there so far. Something new this week though – I felt them with my hand on my belly finally! Matt has been so eager to feel them. He talks to them and blows raspberries at them to try to get them to squirm. I just can't wait to see the look on his face one day when he finally feels a little kick!
Food Cravings? Chicken salad sandwiches, fresh fruit mixed with greek yogurt and cereal, tomatoes and pickles covered in ranch and Frank's Red Hot sauce. To be fair… I had weird food cravings before I was pregnant, so I'm not really sure how much of this is baby-related.
Anything making you queasy or sick? Unfortunately, yes still. Opening the fridge still gets me. Cooking is out of the question. The sight or smell of any food I've thrown up already (there's a lot of those). Swallowing pills has to be done with caution.
Symptoms? Insomnia. Backaches. Nausea/Vomiting. I was almost vomit free for a whole week (would have been my first time since I started throwing up at 4.5 weeks pregnant), but then on Thursday morning up came a Hot Pocket. Insert a big fat sad face here!
Stretch Marks? None so far!
Looking forward to? Having my bump finally 'pop'. I know I will regret wishing for this in a few months, but as a first time mommy, I'm still eager for it right now! I feel like I've been stuck in the "Are you fat or pregnant?" stage for a while now. I had some heart tests done this week (routine because of my dad's early death of cardiomyopathy), and none of the nurses could tell I was pregnant. Here I was, feeling like I was having a big bump day too! So if my 17 lbs isn't going to belly, I'm convinced it's lodged itself in my derrière.
Verse of the week? "Now to him who is able to do far more abundantly than all that we ask or think, according to the power at work within us, to him be glory in the church and in Christ Jesus throughout all generations, forever and ever. Amen." Ephesians 3:20-21, ESV
To stay up to date on all my posts about the twins, check out my link on the sidebar (to the right)! You can also subscribe and have each of our posts delivered straight to your inbox – it's free!