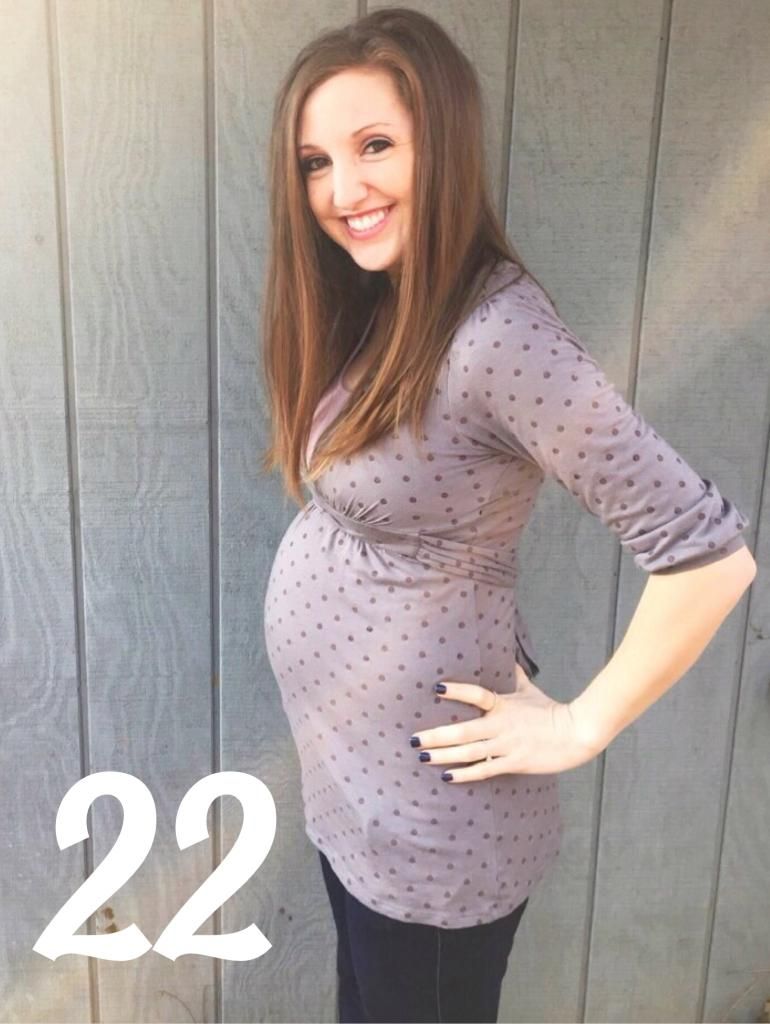 If you notice that my symptoms don't quite line up with your timeline, don't worry! Apparently, twin pregnancies track about 6 weeks ahead of singleton pregnancies with respect to symptoms and measurements. At least that's what my doctor says!
While a 25-35lb weight gain is recommended for a singleton pregnancy (assuming a healthy pre-pregnancy weight), my doctor has recommended a 40-50lb weight gain for my diamniotic dichorionic twin pregnancy. Those fancy words translate to 'my babies need a lesson on sharing as soon as they exit the womb'. Not all twins have their own amniotic sac or their own placenta, but my uterus is hauling two of each! Bring on the weight!
I'll try to do an update every week or so, but we'll just play it by ear and see how I'm feeling!
How far along? 22 weeks
Total weight gain? 21 lbs. Dr. Brown said it was 'just perfect', which was good to hear since I'm certainly feeling very whale-like these days.
Maternity clothes? Just my one pair of jeans still. I am so surprised that some of my regular pants can still button, especially with my belly 'popping' this week! I think it's just the fact that I've been carrying so high. I plan on doing some maternity shopping soon though!
Sleep? Only at all the wrong times.
Best moment this week? My anatomy scan – Mommy and babies all three passed with flying colors! It's a huge blessing and answer to prayer to hear that everything is progressing so well. Babies are both measuring roughly 3 days big, which is wonderful news for twins! Measurements are standard – singletons, twins, and triplets alike. So my twins aren't measuring 'big for twins', they're measuring big for any baby at their gestational age. Praise the Lord! A big concern for twin pregnancies is going into preterm labor, often due to a shortened cervix. My cervix is measured at every visit to check for any signs of shortening. My doctor wants me to be above 3 centimeters in order to stay off bed rest, and mine measured at a 5.5 this week, which she said was an A++ for one baby, let alone two! Of course this is all in the Lord's hands and circumstances can change in a moment's notice, but Dr. Brown said at this rate we don't see bed rest in my near future and carrying all the way to full term (38 weeks) is looking very promising.
Miss anything? Being on the same sleep schedule as my hubby.
Movement? I think they are little gymnasts! Flips all day long, especially from Baby B on the left side.
Food Cravings? I had a craving for sushi earlier this week, which is funny since I don't like sushi! I guess I only want it when I know I can't have it.
Anything making you queasy or sick? Oh, you know…. being awake. I'm only safe when I'm sleeping.
Symptoms? Nausea/Vomiting, Backaches, Insomnia.
Stretch Marks? Nope!
Looking forward to? Our anniversary next week! No special plans or anything (it's hard to make those while I'm sick), but I'm looking forward to re-watching our wedding video (our little tradition) and just enjoying each other's company.
Verse of the week? "Every good gift and every perfect gift is from above, coming down from the Father of lights with whom there is no variation or shadow due to change." James 1:17, ESV
To stay up to date on all my posts about the twins, check out my link on the sidebar (to the right)! You can also subscribe and have each of our posts delivered straight to your inbox – it's free!