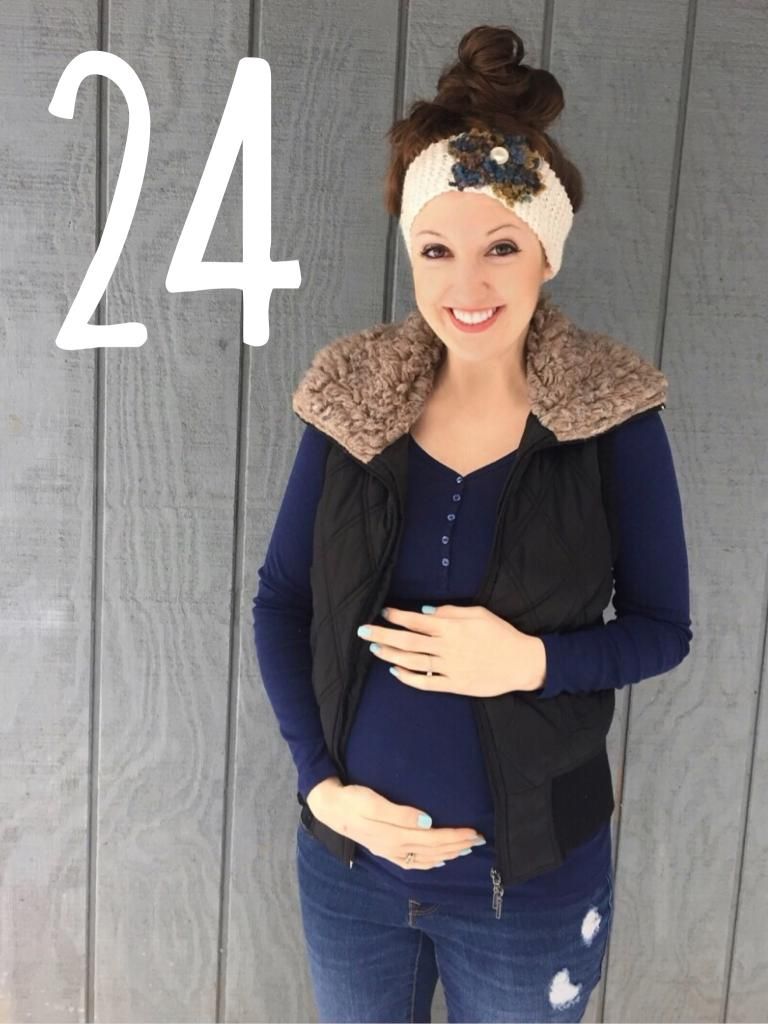 If you notice that my symptoms don't quite line up with your timeline, don't worry! Apparently, twin pregnancies track about 6 weeks ahead of singleton pregnancies with respect to symptoms and measurements. At least that's what my doctor says!
While a 25-35lb weight gain is recommended for a singleton pregnancy (assuming a healthy pre-pregnancy weight), my doctor has recommended a 40-50lb weight gain for my diamniotic dichorionic twin pregnancy. Those fancy words translate to 'my babies need a lesson on sharing as soon as they exit the womb'. Not all twins have their own amniotic sac or their own placenta, but my uterus is hauling two of each! Bring on the weight!
I'll try to do an update every week or so, but we'll just play it by ear and see how I'm feeling!
How far along? 24 Weeks
Total weight gain? 23 lbs

Maternity clothes? I finally did a little shopping. Old Navy had a good maternity sale going on this past week, and I picked up a few items in store then ordered a few more online. I even scored a shirt for 47 cents (pictured)… that's like yard sale pricing there! I spent $72 of my $100 maternity budget and was able to add 2 pairs of pants, a skirt, 4 shirts, and a dress! I'm hopeful that this will be enough to get me and my big belly through the end of May, but if not… I still have that $28 for a few more items, and yard sale season is coming up so hopefully I can make that money go far. There are still so many of my pre-pregnancy clothes that accommodate my growing midsection that I really don't think I need a ton of maternity clothes.
Sleep? Not in the traditional sense of the word, no. I did, however, venture into sleep-walking for the first time in my life. Scared the daylights out of Matt! I woke up with a baby thermometer in my ear because he thought I had a fever that was making me delusional. I was scared to go back to sleep after he told me what had happened. I even asked him to chain me down to protect me from myself!
Best moment this week?  Even though we both ended up being sick, we still enjoyed celebrating our 3rd anniversary together. We've been blessed with a wonderful marriage and each new year is such a gift!
Miss anything? Traveling. I had a few Arkansas baby showers as well as a trip to visit my brother in Seattle for his birthday all scheduled for this month that had to be canceled. I know everyone is understanding about me having to cancel since my travel was restricted so early, but I still feel bad about it. I just miss getting to see all those friends and family, but hopefully I'll make up for it soon enough when I get to see them with babies in tow!
Movement? All the time! I even saw my belly twitch in church this past week. We might have a little soccer player on our hands after all!
Food Cravings? I still don't really think I've experienced the intense pregnancy cravings that everyone talks about. Before we got pregnant, Matt and I used to joke that I was going to be the most ridiculous pregnant lady ever because my pre-pregnancy cravings were weird enough as is. So maybe I'm just already used to eating weird stuff at weird times that the cravings are just blending in!
Anything making you queasy or sick? Still feeling nauseous pretty much any time I'm awake unfortunately. I was able to start cooking again this week though, so that's nice!
Symptoms? Backaches, Insomnia, Nausea/Vomiting, Nosebleeds. Aaaaaand the worst of all… vomiting and nosebleeds at the same time. That was not something I wish to ever repeat.
Stretch Marks? Nope!
Looking forward to? My mom coming to visit next week!

Verse of the week?
Behold, children are a heritage from the Lord,
    the fruit of the womb a reward.
Like arrows in the hand of a warrior
    are the children of one's youth.
Blessed is the man
    who fills his quiver with them!
He shall not be put to shame
    when he speaks with his enemies in the gate.
 Psalm 127:3-5, ESV
To stay up to date on all my posts about the twins, check out my link on the sidebar (to the right). You can also subscribe and have each of our posts delivered straight to your inbox – it's free!