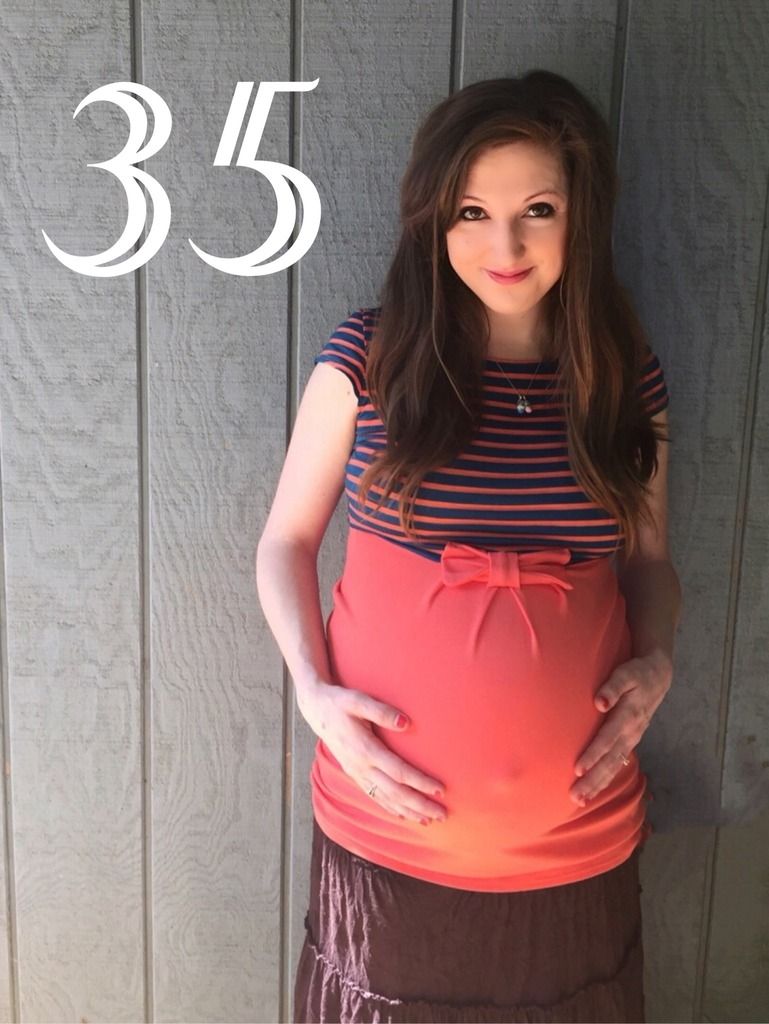 If you notice that my symptoms don't quite line up with your timeline, don't worry! Apparently, twin pregnancies track about 6 weeks ahead of singleton pregnancies with respect to symptoms and measurements. At least that's what my doctor says!
While a 25-35lb weight gain is recommended for a singleton pregnancy (assuming a healthy pre-pregnancy weight), my doctor has recommended a 40-50lb weight gain for my diamniotic dichorionic twin pregnancy. Those fancy words translate to 'my babies need a lesson on sharing as soon as they exit the womb'. Not all twins have their own amniotic sac or their own placenta, but my uterus is hauling two of each! Bring on the weight!
I'll try to do an update every week or so, but we'll just play it by ear and see how I'm feeling!
How far along? 35 Weeks
Total weight gain? 39 lbs
Maternity clothes? Mostly just pajamas, sweats and t-shirts since I'm still on bed rest at home.
Sleep? No more than 2 hours at a time… my bladder is a great alarm clock.
Best moment this week? My doctor appointments are always fun, I love getting to see my babies! Baby A weighed in at 4 lb 13 oz this week and Baby B was 5 lb 11 oz. Both scored 8/8 on their biophysical profile exams and had perfect doppler ultrasound exams!
Miss anything? Being comfortable.
Movement? I'm pretty sure they had a fist fight last night. I think Baby B is wanting the 'first out of the gate' position, but Baby A is holding strong – "And though she be but little, she is fierce."
Food Cravings? French fries with lots of ketchup, grape popsicles, gala apples, coke zero with vanilla.
Anything making you queasy or sick? No specific foods, but my acid reflux is still causing some nausea/vomiting.
Symptoms? Nausea, vomiting, backaches, contractions, ligament pain in hips/legs, itching everywhere!
Stretch Marks? Nope!
Looking forward to? This pregnancy ending and motherhood really beginning.
Verse of the week? "When a woman is giving birth, she has sorrow because her hour has come, but when she has delivered the baby, she no longer remembers the anguish, for joy that a human being has been born into the world." John 16:21, ESV
To stay up to date on all my posts about the twins, check out my link on the sidebar (to the right)! You can also subscribe and have each of our posts delivered straight to your inbox – it's free!