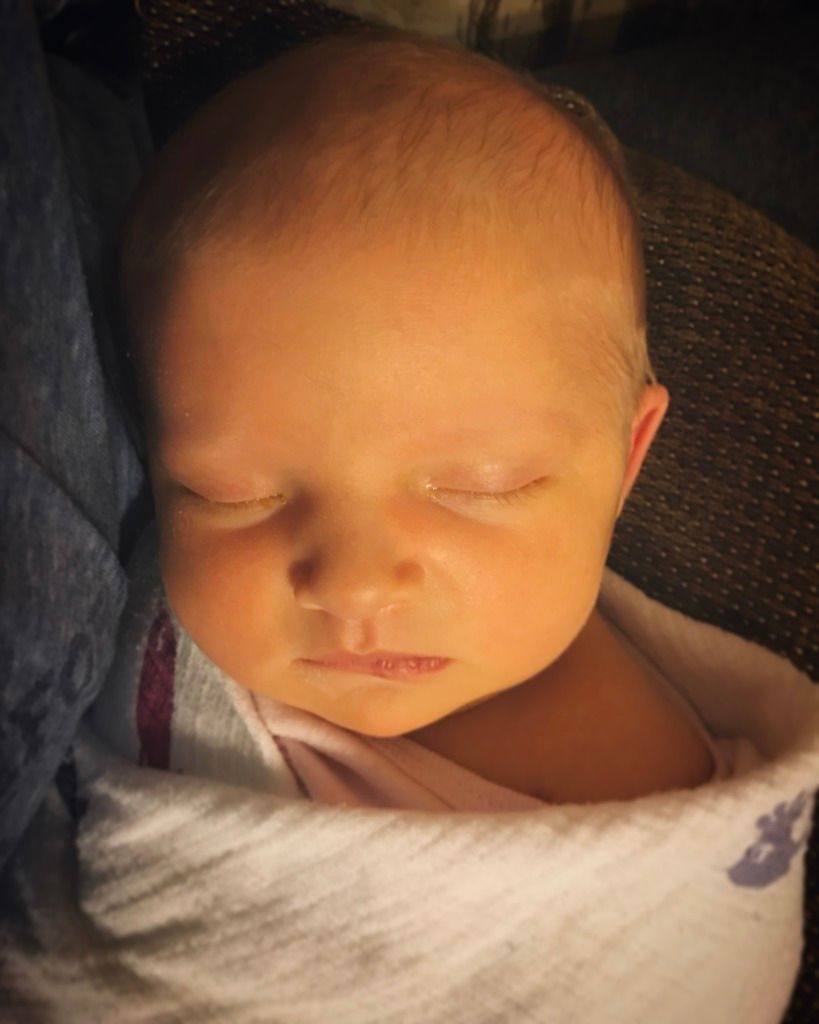 Last Tuesday, while Matt was at work and I was blissfully sleeping to the rarity of all three kids napping at once, I awoke to 3 voicemails from the Weisskopf Center for Pediatric Genetics stressing the importance of calling them back ASAP to discuss the results of Abi's state-mandated newborn screening.
Her results had come back as positive for a metabolic disorder called Phenylketonuria (PKU). PKU is a rare genetic disorder (1 in 15,000-20,000 births in the U.S. or 1-2 in 55,000 in Kentucky) that prevents the body from making the necessary enzymes to process an essential amino acid found in almost all proteins called Phenylalanine (PHE). When the body fails to process PHE correctly, it builds up in the bloodstream and causes harm to the central nervous system. In a developing child, the damage presents itself as irreversible brain damage leading to intellectual disabilities and developmental delays. In adults, it presents as severe mood swings, attention disorders, memory loss, lowered cognitive function, and in severe cases, seizures. That said, catching PKU early and starting a low-PHE diet within the first few weeks of life (and maintaining it throughout life) can generally prevent all major symptoms and developmental issues.
When a baby tests positive for the disorder during an initial newborn screening, more thorough tests are necessary to confirm the diagnosis. The Weisskopf Center scheduled me and Abi to come in the very next day for labs and to meet with a neonatal neurologist, metabolic nutritionist, and genetics counselor. They were all incredibly knowledgeable and supportive. There was a TON of information given to me, but I appreciated leaving there well informed about what could potentially be ahead of us.
Although they admitted that a false positive was a possibility, they said it was exceptionally rare, so we needed to prepare ourselves for a confirmed diagnosis. They told me that if Abi was positive for PKU, Matt and I would need to be trained on how to take Abi's labs at home to avoid having to come in to the hospital each week for blood draws. We discussed the levels we hoped to keep Abi's PHE at, and how 'diet for life' meant we would probably have to make major changes to make our home a safer environment for her dietary needs.  We knew that if the diagnosis was confirmed with further testing, we would have to be Abi's greatest advocates and supporters as she learned to manage a very strict and specific diet. While we waited for the results, we were given a modified low-PHE diet using a Phenylalanine-Free formula to supplement Abi's normal intake of breast milk.
The additional lab work drawn at the hospital had to be shipped to Salt Lake City, but the genetics counselor said that she would ask the lab to rush Abi's blood work so that she could call us with the results as soon as they were done.
Today we got that call and it looks like Abi may actually be one of those exceptionally rare false-positives they told us about! Her blood PHE levels had dropped by nearly two-thirds from the original screening the day after she was born.
There are still a few super rare disorders that can cause elevated PHE levels early in a baby's life, and we are still waiting on the results from those tests to come back, but pretty much all of those can be managed with medication alone and don't require a lifelong change in diet. They are planning on repeating last week's labs one more time just for peace of mind since false positives are so much rarer even than confirmed PKU diagnoses. For the time being, we get to go back to a 100% breast milk diet to make sure that we get an accurate reading on those tests. Our genetics counselor expects Abi to be completely cleared within the next two to three weeks.
The Weisskopf Center's current theory on how Abi could have tested positive for PKU initially and now have completely normal PHE levels is that her liver just took an exceptionally long time to get into gear.  This theory might also explain the fact that she is still jaundiced over two weeks after birth.
Matt's theory, however, is that Abi has super genetics because all in one day, she "cured" her PKU, her clipped lip tie grew back (partially), and a nasty case of thrush has pretty much disappeared overnight. (Just let him believe we have a superhero baby – don't spoil it!)
We wanted to thank everyone for all of the texts, calls, concerns, and prayers!  We knew we would be okay regardless of the diagnosis because God is good and God is sovereign, but we are so thankful that it sounds like Abi won't have to deal with the difficulties of a low-PHE diet for the rest of her life.