I lost my dad to a heart disease when I was four years old and my mom never remarried. Shortly after his death, my mom left her job as stay at home mom to go back to work and make sure we could make ends meet.
Money was tight growing up. I think a good way to describe it is that we always had enough, but there was never any extra. My mom has always been extremely selfless – going without her own comforts to make sure we had ours.
I always knew that I wanted to pay for my wedding on my own. I didn't think that was a burden meant for my mom to bear. I appreciated (probably more than I ever showed her or told her) all the financial sacrifices she made for me and my brother growing up. This was one small way I could give back.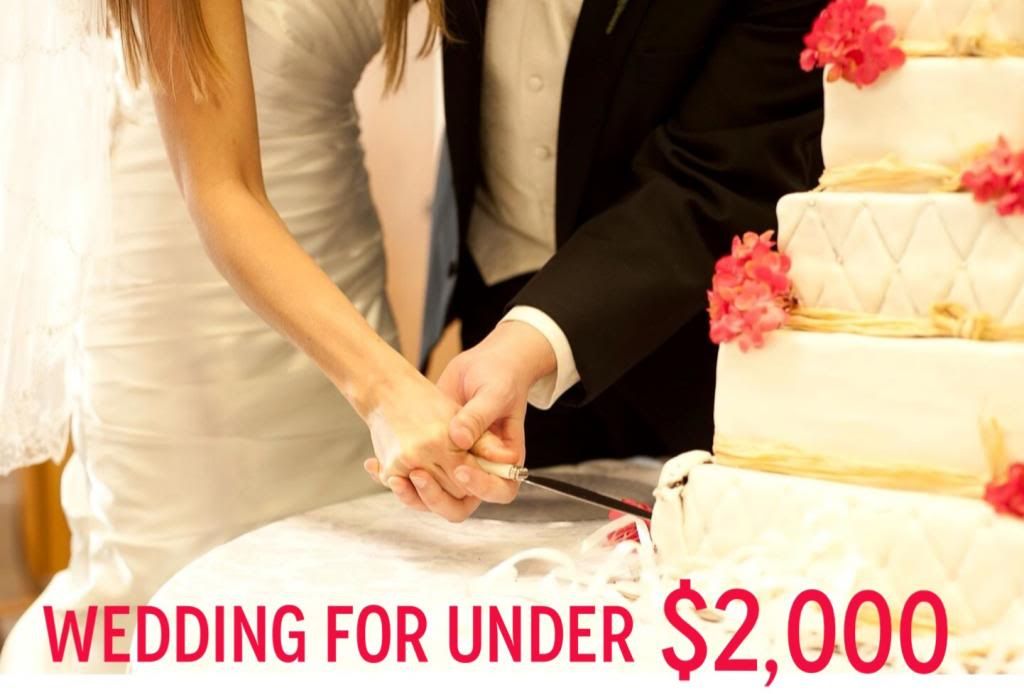 Matt and I courted for five months before we got engaged. (You can read our full love story here). I knew he was serious when he told me he intended to marry me…soon. In those five months, I managed to save $2,000 specifically for wedding costs. So when he proposed on Dec. 2, 2011, we had our budget set….$2,000.
Matt and I are both pretty outgoing. We have large, loving families and a lot of friends. We wanted a big wedding! Anyone who wanted to come was welcome.
A small budget and a big wedding.
It might seem stressful or scary to think of planning a large wedding for under $2,000, but we were so thankful that God had given us these circumstances. It allowed our hearts and minds to stay focused on what really mattered…. our marriage, not our wedding.
We wanted to covenant together as husband and wife before the Lord because we felt we could glorify God better together rather than separately. That was our focus. The rest were just details.
Matt went to his friend Lance's wedding before we began courting and he shared something with me that really influenced how we planned our wedding. At Lance and Leah's reception, Lance stood up and shared with their guests that they didn't have many decorations because the guests themselves were the decorations.
I thought that was just beautifully said. We didn't need decorations, despite what pinterest might tell me. So I made the decision to not buy a single decoration, our guests would be our decorations. Our first major budget cut.
There were several things we just decided to cut out all together, others where we just searched for the best deal, and a lot more where friends and family donated their time and energy to make this all come together.
Our wedding was such a powerful image of the way the body of Christ loves its fellow members. Our short but sweet engagement was a time of worship and praise to God for all the ways he provided for us.
Below is the breakdown of our expenditures, but I wanted to share the background story first so you could hear my heart behind why we had such an inexpensive wedding.
I don't think it's wrong to spend money, and I don't think it's wrong to have an expensive wedding. I do think it's wrong to worship money, and I do think it's wrong to spend outside your means.
Our means were smaller than most American weddings in today's times, and here's how we made it work for us:
$55 bouquets and boutonnieres: I waited for Hobby Lobby's 50% sale on flowers and I spent $5 on each bouquet (I had 8 bridesmaids). Then $15 on three small bouquets that I wrapped together to make my own larger bouquet. I cut out flowers from the bouquets to make boutonnieres for Matt's 6 groomsmen (& him). I used a roll of ribbon I already had to hot glue on the stems.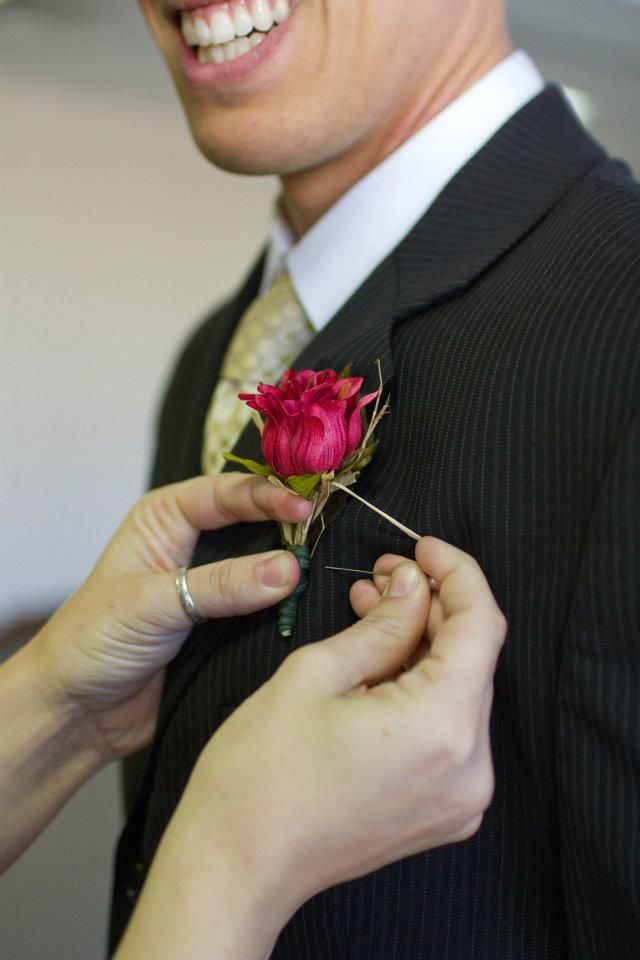 $250 wedding dress: I had planned to borrow a wedding dress from either Lisa or my friend Christine and just have it cleaned afterwards for them. Matt's mom shared how much it meant to her to have a wedding dress of her own, so she gave $150 to me so I could experience that too. I was able to find a dress I liked at David's Bridal for $400, making my cost only $250….which is about what it would have cost to clean a friend's dress.
$0 veil: Borrowed from Lisa who got married 2 months before me.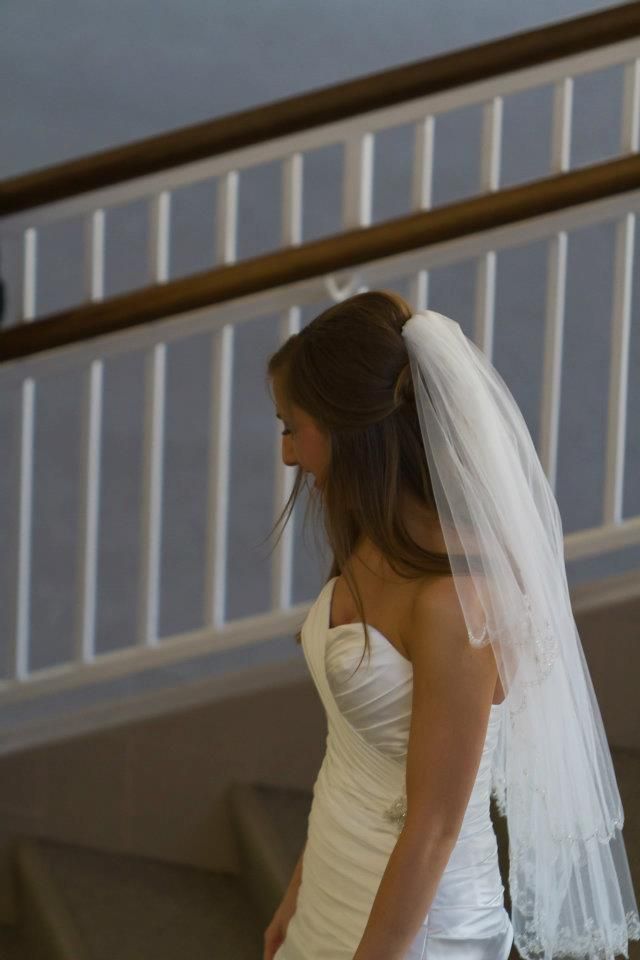 $1,000 photos: I knew that the photos would be my largest expense from the start. I wanted to splurge a little in this area. One of Matt's good friends from college, Maura, is a professional photographer in our area. She was a doll and gifted us with a free engagement session and a majorly discounted wedding package. She even traveled 6 hours to Collierville, TN to do the engagement photos at my grandparents' farm. She told us from the start that she wanted to do engagement photos for us no charge (she didn't even know my financial situation at the time) even if we decided to choose another photographer for the wedding. When we met to discuss wedding costs she said she viewed her business as a mission field and a way to bless others. Sometimes that meant setting costs, sometimes it meant working for whatever they could afford, and sometimes it meant donating her services free of charge. She told us she would do the wedding for whatever we felt we could afford. So we honored her by giving her the full $1,000 that I had set aside for photographs (I think that's less than a third of her costs for a similar package). Bonus…she also is great with hair and did my wedding hair!
$30 invitations and programs: My only cost here was the card stock and envelopes. Lisa's sister designed both the program and invitation for free. My work let me print them for free, we just did black and white so we didn't use up all their ink. We printed 4 invitations per page and front/back programs so we didn't have to buy a lot of card stock. I cut them myself. I did most of our invitations via Facebook (crazy kids these days, right?). Anyone who requested a physical invitation got one. And we mailed them to all our friends and family members that didn't have Facebook. My mom bought us two rolls of stamps for the physical invitations.
$150 venue: We got married at the church we were both members at. We also met there and were both baptized there, so it definitely held a special place in our hearts and always will.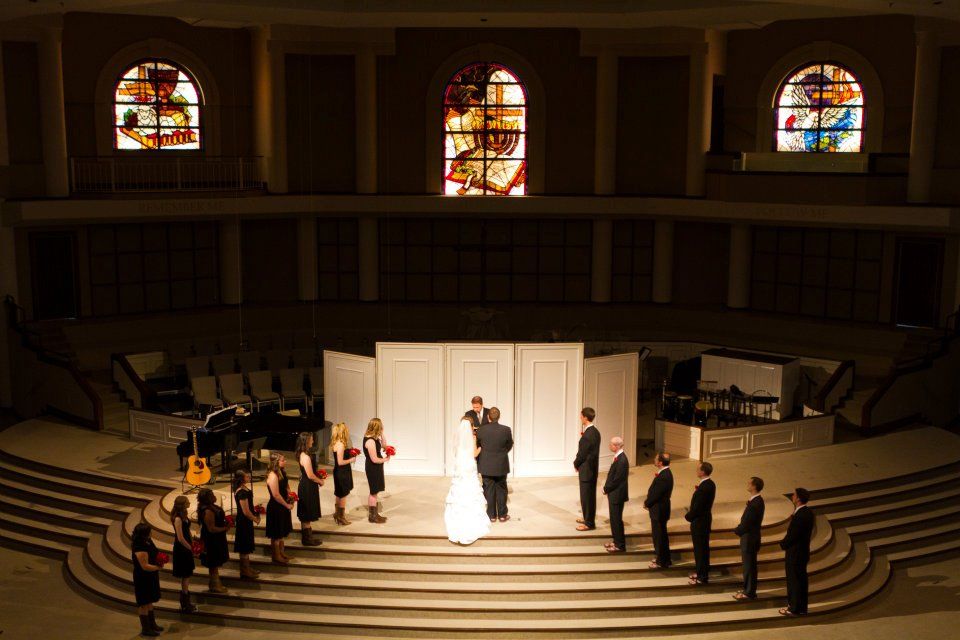 $75 cake: One of my very best friends is a cake decorator. She agreed to make a wedding cake (+ groom's cake) to feed 400 people for just the cost of ingredients, which ended up being $75 dollars. It was 5 tiers and just gorgeous. She also happens to have the voice of an angel so she played piano and sang for us too. Everyone needs an Elizabeth in their life. (I borrowed Lisa's 'K' cake topper)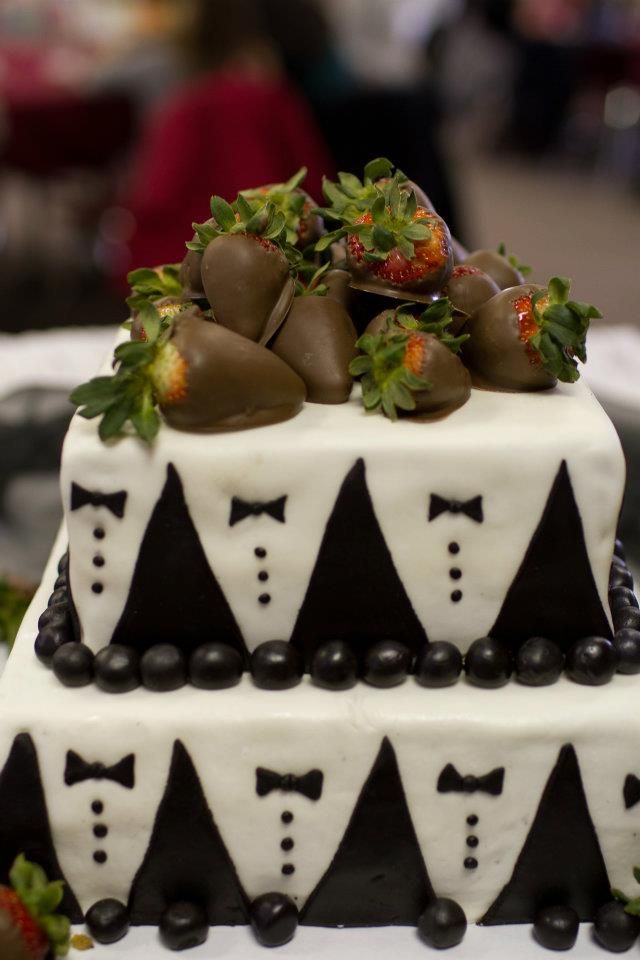 $0 bubbles: I was honestly fine with people just clapping or cheering when we left, but as funny as it sounds…Matt really wanted bubbles. I guess he had always dreamed of running through a bubble tunnel on his wedding day! So Matt bought some bubbles online for $25 for us.
$0 reception: I had two wonderful ladies, Karin and Kristi, who took full reign on my reception. I gave them a list of some ladies in the church who knew me well and they asked each of them to provide a dish for a potluck. It was so humbling to see everyone in our church provide for us through our reception. We could have eaten ramen noodles on paper plates for all I cared, I was just happy to be getting married. But they made my reception so special. I'm still blown away by how well the reception came together.
$0 bridesmaid dresses and groomsmen suits: I was pinching my pennies in every way possible for my wedding. It didn't feel right to then ask my bridesmaids or Matt's groomsmen to dish out several hundreds of dollars to pay for their outfit for the day. We simply asked the girls to wear a plain black dress that was knee length and brown/tan cowboy boots (most of them borrowed mine since I have way too many pairs). We asked the guys to wear a black suit (or whatever they had that was closest) and chacos (because they all had a pair already and Matt wanted the guys to wear fun shoes too). Matt bought the guys their matching ties as their groomsmen gifts.
Matt rented his own tuxedo for $100.
My Total Cost… $1,560
I was able to have my wedding with over 350 guests using only 78% of my budget. Praise be to God for all the ways he provided for us. We spent so much time on our honeymoon reflecting on all God had done for us in our married life already, through our wedding day alone!
Don't let your wedding planning be a stressful time, let it be a worshipful time. In the end you'll be married, and that's all that really matters.